Mouchel was not the only company that wavered on the market this week - Serco suffered a blip after it tried to pass on a government price squeeze to suppliers and was humiliatingly forced to apologise for it after pressure from Francis Maude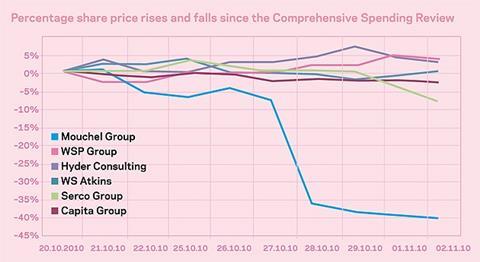 But any embarrassment will be cushioned by a healthy bottom line, which is more than can be said for Mouchel, whose share price wobbled after the Comprehensive Spending Review and was completely routed after it cut its dividend last Thursday.
But reinforcements are at hand. Richard Rae (from RBS), Seamus Keating (Logica) and David Sugden (Findel) became non-executive directors. "These guys aren't mugs," said one approving analyst. "They wouldn't join a sinking ship."
Certainly Keating should bring plenty of government contacts from IT and management consultants Logica, and give Mouchel an edge in the outsourcing bunfight that every consultant in the country is eager to join.
Much has been made by analysts - and the companies themselves - of a potential boom that outsourcing by cash-strapped local authorities and government departments could bring for the likes of Serco, Capita and, of course, Mouchel.
It was "the only straw in the wind" in the latter's results, says Tony Williams of Building Value. But the consensus is that it will be another 12-18 months before outsourcing money begins flowing onto balance sheets.
So where next? "There's a sporting chance that in 12 months Mouchel won't be independent," says Williams. The water and environmental parts of the business will be far more attractive to buyers than Mouchel's other divisions, insiders speculate, which creates a problem.
"Nobody wants the lot," Chris Banbury of KBC Peel Hunt says. "I can't see a trade buyer coming in - you'd get a company with half you didn't want. You would need a financial buyer who'd come in and sells bits of the business off."