You have to wonder whether some housebuilding bosses haven't begun putting out feelers to headhunters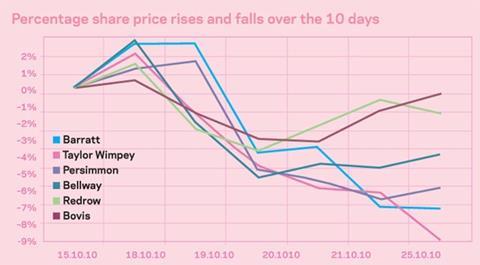 With the exception of Steve Morgan's boardroom coup at Redrow, the bosses who were in place when the market froze in spring 2008 are all still behind their desks.
They won't be sitting comfortably, given the battering the industry took in last week's spending review and the miserable autumn selling season.
All this must provide an awkward backdrop to the early stages of refinancing talks at Taylor Wimpey. Only 18 months ago, the housebuilder completed a financial deal so lengthy and complicated that one banker who worked on it compared it to Tolstoy's War and Peace. If you had bought £100 worth of shares in the days after the deal was signed, hoping that the only way was up, they would now be worth about £50.
Taylor Wimpey's land spend in cash is capped at 10% of its net asset value. If further writedowns occur, its ability to buy land will plummet, hence the second refinancing.
The lenders are calling the shots. One banker close to the process said last week: "If you think the company was taken to the cleaners last time, wait for this time."
Analysts are divided over whether this second deal is riskier than the last one. Kevin Cammack at Cenkos Securities thinks not, mainly because the company is refinancing £600m-plus, rather than £1.9bn.
But Robin Hardy at KBC Peel Hunt believes bondholders, who form the largest group of the lenders, could play hardball by asking for their money back. He added that getting banks to buy out bondholder debt could be difficult because the banks were "no longer on the hook" with debt as they were when they made the first deal.
Both analysts agree that a further debt-for-equity swap with the lenders may be needed, and perhaps even a rights issue. It makes you wonder how much more Taylor Wimpey's upbeat boss Pete Redfern can take with a smile on his face.