Transport Scotland says team including Balfour Beatty has not provided 'sufficient evidence to substantiate' demand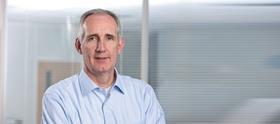 The client Balfour Beatty and Galliford Try say owes them "hundreds of millions" of pounds for work on a problem road job in Aberdeen has said the pair have done nothing to prove it owes the two anywhere near that figure.
The scheme, known as the Aberdeen Western Peripheral Route, was finally fully opened in February – over a year late.
Last week Balfour Beatty chief executive Leo Quinn said the joint venture, known as Aberdeen Roads Limited, was owed "hundreds of millions" and added: "The job was sold for £530m but has cost over £1bn to deliver." He said the joint venture had been forced to shoulder around £500m in extra costs.
Quinn (pictured) said the firm had until the end of the year to come to a negotiated agreement with Transport Scotland – or formally begin legal action.
But a spokesperson for Transport Scotland, the Scottish government's transport agency, said: "While it is not appropriate to comment in detail on the contractor's claim due to the commercially confidential nature of the discussions regarding it, we can confirm that, to date, Aberdeen Roads Limited has yet to provide sufficient evidence to substantiate its claim."
He also disputed Quinn's claim the scheme had cost more than £1bn to build, adding the cost "remains at £745m".
The scheme was mired in a series of problems caused by issues such as bad weather and the cost of carrying out utility diversions.
The 58 km-long job has caused huge financial damage to the firms involved with original joint venture member Carillion going bust last year, in part blaming problems on the road for its demise, while the costs of completing it and another problem job, the Queensferry Crossing, saw Galliford Try launch a rights issue last March to raise close to £160m.
The firm has since embarked on a cost-cutting drive which saw 350 jobs go earlier this year after disclosing more losses on the Aberdeen and Queensferry jobs.