Combination of drop in public work and slow rise in private projects results in weaker growth rate in December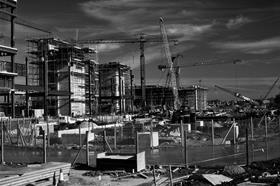 Commercial development activity in the UK rose at its slowest rate for nearly three years at the end of last year, according to an index compiled by estate agent Savills.
The firm's Commercial Development Activity Index reported that a combination of a sharp drop in public work and the slowest rise in private projects since May 2013 resulted in a weaker growth rate in December.
London and the South-east saw growth accelerate, but this was tempered by slower growth for the rest of the country.
The annual growth in activity for 2015 of +12.6% was a drop in the performance seen in 2014, which saw annual growth of +25%.
Savills' head of building and project consultancy Simon Collett said the decline in development activity was mostly down to the public sector as "the impact of public sector cuts is now becoming apparent".
However, there was optimism from respondents to the survey over new project opportunities, with survey respondents forecasting a pick-up in client demand for the next three months.