Birmingham council's audit committee has given the project a red risk-rating
Threats to the programme to build the athletes' village for the 2022 Commonwealth Games are intensifying, Birmingham city council has revealed.
Papers prepared for yesterday's meeting of the council's audit committee gave the Commonwealth Games Village (CGV) a red risk-rating, meaning that there is a high level of concern about the programme.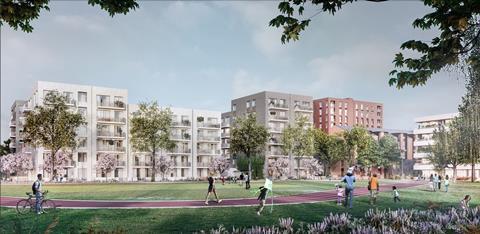 The papers said: "At the time of our audit, there was significant pressure on the budget and slippage on the project timelines. Subsequently, a revised full business case was approved by cabinet.
"We also noted that there was insufficient contingency and that risk management process were inadequate. Following a subsequent progress review undertaken in March 2020, we concluded that the level of project contingency remained a high project risk."
The council cabinet approved the original outline business case for the CGV and wider Perry Barr regeneration programme in June 2018, according to the papers.
The council said this month that an analysis of Lendlease's job to build the athletes village was being carried out to work out the impact of coronavirus on the schedule.
Last month Building revealed that the department for digital culture, media and sport had been brought in as part of the review.
Earlier this year, the council said it would have to find more cash or scale back plans for the project adding that it was "no longer possible" to build the scheme within a previous budget of £492.6m or to "deliver the village in the way originally envisaged".
Lendlease is principal contractor on the job which will accommodate around 6,500 athletes and officials during the games and will then be turned into a mixed-use development featuring more than 1,100 homes.
The building packages on the project have been subcontracted out to several major contractors, with both Willmott Dixon and Kier working at the site.