Experts raise concerns over environmental credentials of the £850m Swansea Tidal Lagoon green energy project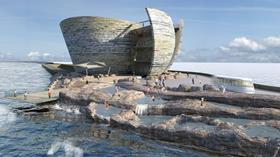 The environmental credentials of the £850m Swansea Tidal Lagoon green energy project have been called into question by experts.
The project to generate electricity from tidal water movement in Swansea Bay, on which Atkins is working as lead designer with contractor Costain, could generate enough power to run around 120,000 homes if it is given the go-ahead.
But experts have raised concerns over the scheme's environmental credentials.
In its response to the Planning Inspectorate's examination of the scheme, Natural Resources Wales (NRW) said it "did not consider" that a number environmental issues had been "adequately assessed".
It said the project was likely to have a "significant effect" on conservation areas in Swansea Bay.
It added that the construction of the tidal lagoons, which will require a 9.5km sea wall, had the "potential" to cause flooding but mitigation had not been considered.
It said: "We do not share the same level of confidence as the applicant in the levels of significance and risks ascribed to a range of predicted environmental impacts.
"These differences of opinion mean we are not in a position to advise whether the full range and scope of monitoring and mitigation currently suggested is adequate."
NRW also said that there were concerns about lack of arrangements for monitoring the project's effect on the bay's population of marine mammals, while the RSPB raised concerns over the scheme's effect on the natural feeding stock for birds in the area.
Neighbouring property owner St Modwen, which may be forced to sell part of its land for the development, said it was "most concerned about the financial viability of the development … and the extent of the unquantifiable costs not least of which will be the payment of compensation to the landowners".
"These concerns need to be addressed by the putting in place of a significant financial bond to be provided by a bank or other reputable institution," the developer said.
Tidal Lagoon Power confirmed that it is currently revising a number of its environmental plans, including those on flooding and marine mammal monitoring, in response to the issues raised in the planning process.
Alex Herbert, head of planning at Tidal Lagoon Power, said it was working with stakeholders "to address outstanding concerns about the project and its impacts, as part of the ongoing development consent order examination process".
He added: "It is now the job of the Planning Inspectorate to determine if our application meets the criteria required for this game changing development to be given the go-ahead.
"We firmly believe that our application makes absolute economic, social and environmental sense."