Growth across commercial and industrial sectors makes up for slowdown in private housing, according to latest CPA survey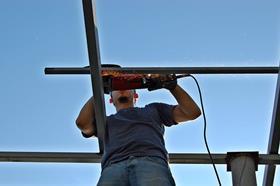 The construction sector grew for the sixth straight quarter in the third quarter of this year, according to the Construction Products Association's (CPA) latest Construction Trade Survey.
The survey showed growth in private housing output slowed during the period, but this was offset by growth in all other sectors.
Key findings include:
A balance of 60% more building contractors reported that construction output rose than declined in the third quarter of 2014 compared with a year ago
Private housing output in Q3 rose according to a balance of 35% of building contractors
A balance of 43% of building contractors reported that private commercial output rose and a balance of 41% reported private industrial output rose over the period, compared to the previous year
On balance 68% more firms reported labour costs rose than fell and 74% more firms reported that materials costs rose than fell in Q3, compared with the previous quarter
On balance, 11% of building contractors reported a fall in margins in Q3 compared with Q2
Commenting on the survey, Dr Noble Francis, economics director at the CPA, said: "Construction firms reported growth once again in the third quarter of 2014, the sixth consecutive rise in activity for the first time in six and a half years.
"The only dark clouds in construction were seen around margins, which continued to be hit hard. Construction firms had to suffer rises in costs in Q3 once again and although tender prices also rose in Q3, the benefits of these tender price rises are only likely to be felt when the work from these contracts occurs in 2015."