Support services was only other industry to lose more than 2,500 firms, government data shows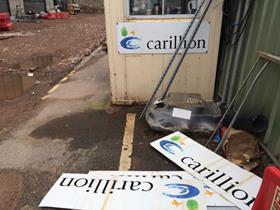 Government data has confirmed construction lost more businesses to insolvency than any other industry in 2018.
The year saw 2,954 firms keel over, an increase of 12% on the previous the year and more than any year since 2013.
The rate of insolvency remained roughly the same throughout the year but the fourth quarter marked an improved three-month period, with 150 less insolvencies than in quarter three.
The industry with the second-highest insolvency rate is 'administrative and support services,' which like construction would have felt a knock-on effect following the collapse of Carillion last January.
The two sectors are together responsible for 5,603 of the 17,439 businesses which entered insolvency in the UK in the last year.
Only 163 of the construction firms that imploded were civil engineers, while 934 were building firms.
The figures said 1,857 – 62% – of construction firms which collapsed in 2018 operated in specialised activities such as groundwork, demolition, plumbing or electrical work.