Recovery in 2021 depends on industry's ability to negotiate a challenging winter
Construction output is set to fall by 14.5% by the end of the year as the industry braces itself for a difficult winter, according to a Construction Products Association (CPA) forecast.
A worsening labour market, the risk of a no-deal Brexit and an uncertain future for the commercial sector are the main challenges facing the industry as output struggles to recover after recording the sharpest fall on record in the wake of the coronavirus pandemic.
Warning of a "crucial winter" ahead, the Autumn Scenarios forecast said that the industry's ability to overcome the multiple obstacles it faces will be decisive if the recovery is to be sustained into 2021.
The forecast predicts that output could grow by 13.5% next year. At the moment it is being powered by pent-up demand in private housing and the completion of refurbishment work that stopped when sites were closed following lockdown in March.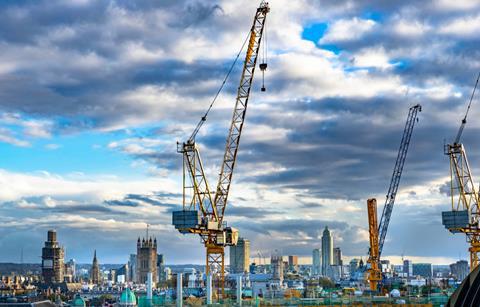 The stamp duty holiday and the end of the first phase of the Help to Buy scheme in March 2021 are also fuelling the housing sector. Homeowners are spending more on improvements with money saved because of the lack of travel and hospitality opportunities.
But the end of the stamp duty holiday and a deteriorating economy carry the risk of reducing demand in Q2 next year.
The forecast said that a strong infrastructure sector would therefore be critical for growth next year. The outlook appears positive, with main works on HS2 due to start in 2021 along with continuing work on offshore wind, Thames Tideway and Hinkley Point C.
However, the global decline in air travel looks likely to lead to fewer airport schemes over the next few years.
"We certainly aren't out of the woods yet," CPA economics director Noble Francis said.
"Uncertainty continues to loom for the commercial sector. If working from home becomes more ingrained in society, footfall in city and town centres will decline leading to a lack of demand for office and retail space."
He added that agreeing a free-trade deal in principle with the EU, with the details determined later, would help to give the economy a degree of confidence.
He also emphasised the importance of government spending on infrastructure and policy interventions suxh as the stamp duty holiday in keeping the sector afloat.
"Construction recovery so far has been highly reliant on the government, either directly through spending on infrastructure or indirectly through policy stimulus to boost housing," he said.
"The government has an extra responsibility, therefore, to deliver on its announcements and ensure construction recovery does not stall in the next 12 months."