CITB predicts jobs growth, but employment still expected to be below pre-recession peak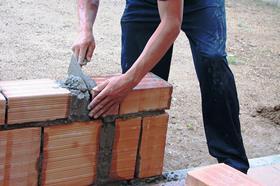 More than 182,000 construction jobs are set to be created in the next five years, according to new research released today by CITB.
Across the whole of the UK, the CITB's Construction Skills Network (CSN) report predicts a reprieve for an industry that even last year saw 40,000 jobs shed.
Yet despite the projected growth in jobs, employment in 2018 is still expected to be 196,000 below pre-recession levels.
CITB called on the government to boost public spending in areas other than housing, such as longer-term infrastructure and industrial projects.
The CSN forecast shows that housing will account for over a third (37%) of the UK's total annual construction output between now and 2018.
Over the next five years, CSN said construction will perform as follows:
Output growth will be strongest in the South West (+3.5%), Wales (+3.4%) and East Anglia (+3%) - all set to perform above national average of 2.2%;
The North West (+1.3%), the East Midlands (+1.1%) and the West Midlands (+0.8%) will be slower to feel the effects of the return to growth;
Employment growth will be a mixed bag across the UK, with East Anglia at the top end set to see its construction workforce increase by an average 2.0% a year, while the West Midlands is predicted to experience an average reduction of 0.2%;
Private housing will be the chief driver for construction's growth and the sub-sector will see a 7.0% rise in output in 2014, followed by 5.0% in 2015. On average, it will grow by 4.6% a year to 2018.
James Wates, chairman of CITB, said: "Clarity and certainty of future projects is an important element of a sustained recovery. That gives employers the confidence to train and to plan.
"The CSN report shows that the economy is turning the corner and the UK construction industry will benefit from that. But growth needs to be sustainable; underpinned by long-term infrastructure projects and continued investment.
"The Government's 'Help-to-Buy' scheme has kick-started demand across the housing market and announcements on nuclear power, rail and roads have the potential to breathe fresh life into infrastructure and industry.
"Alongside this, we'd welcome fresh incentives to encourage house building, and the assurance that major infrastructure projects in the pipeline go ahead as planned."