Decision due later this month for work to turn Department of Health headquarters into MPs' new home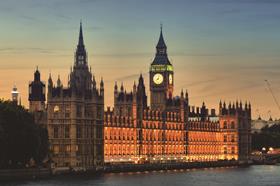 A consultant is being hired to oversee redevelopment of the Department of Health's headquarters to become a new temporary home of parliament while a multibillion-pound renovation is carried out.
Under the plans, the 1980s building - which is a stone's throw away from the Palace of Westminster - could be in line for a £240m refurbishment to accommodate MPs.
A briefing note issued by the Palace of Westminster last month, seen by Building, states the Palace could appoint a combined project manager and quantity surveyor on the project as early as this month.
Separate documents show the Department of Health is willing to relocate to another building elsewhere in Westminster and hand over Richmond House while the palace is overhauled.
Richmond House, which was completed in 1987 and is located at 79 Whitehall, is now favoured as MPs' new home because it offers 12% more floor space than other alternatives, which include a government building at 7 Millbank, and can also be redeveloped to include a sitting chamber.
The Richmond House works are contingent on business case approval, but could start on site in early 2018 and take up to six years to complete.
Last summer a report by a team of independent consultants said asking MPs and peers to move out of the Palace of Westminster would be the cheapest option to overhaul it.
The team, which included Aecom and HOK, put the cost of MPs and peers moving out and carrying out "some improvements" over six years at £3.5bn. Getting them to move out and carrying out "significant improvements" over the same period was expected to cost £400m more.
The most expensive option is to fit work around MPs and peers remaining at the building with a rolling programme of work put at £5.7bn over 32 years.
Allies and Morrison, BDP, Foster + Partners and HOK have been shortlisted for architectural work on the Palace of Westminster, while Aecom and Mace, Capita and Gleeds, CH2M, Arcadis and Turner & Townsend have been shortlisted for programme, project and cost management services.
Meanwhile, the Palace of Westminster's contracting authority Parliament UK has begun tendering for three consultancy frameworks worth a combined £68m.
These frameworks will cover project management, cost management and multidisciplinary design services for major works and building surveying services for minor works. Four consultants will be appointed to each framework.
This framework will not be awarded until October this year, suggesting the Richmond House role is being procured separately.