Pick Everard and WT Partnership have been appointed to the department's four-year framework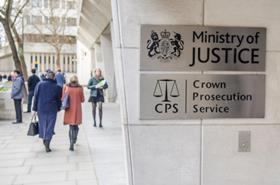 A JV between Pick Everard and WT Partnership has been appointed to the four-year Ministry of Justice Professional Services Providers framework.
The framework will deliver prisons, courts, border crossing facilities, Home Office and government buildings across Wales and central England.
It was procured via the Crown Commercial Service framework.
WT Partnership, who specialises in cost and project management, has been working with the MoJ for more than 15 years.
The firm is currently acting as cost consultant on the new £253m Wellingborough prison, with Pick Everard working as architect and Kier appointed as builder earlier this week.
The MoJ is responsible for the government's Prison Estate Transformation Programme, which has the goal of providing 10,000 new prison places.
Along with Wellingborough, the programme will deliver a new prison at the former HMP & YOI Glen Parva in Leicestershire and a new house block at HMP Stocken, in Rutland.