Scheme awarded without competition because of 'extreme urgency'
Pharmaceutical contractor T Squared has landed a job to design and build a vaccine testing facility at Porton Down.
Public Health England awarded the £12m contract without a call for competition because of "extreme urgency brought about by events unforeseeable for the contracting authority".
The government body added in the contract award notice: "The developing situation in regards to the covid-19 pandemic necessitated the building of a test facility with all due haste in order to provide scientific data used in the fight against the disease."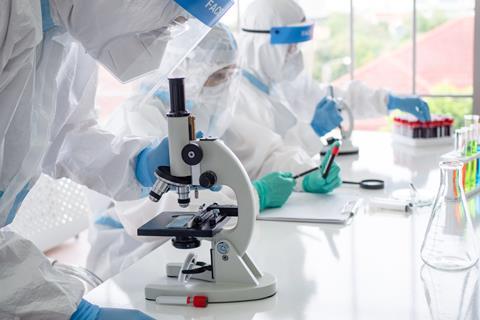 It comes as the government faces pressure from its scientific advisors to tighten social distancing restrictions to reduce transmission of the virus following a steady rise in cases over the past two months.
The facility will be used to test blood samples from clinical trials of covid vaccines, and is part of a £19m government investment to accelerate testing to measure the effectiveness of covid vaccines currently in development.
The tests will be used to evaluate individuals responses to vaccines being developed, and are an essential component in supporting the development and regulatory approval of vaccine candidates.
The centre will be built using a combination of fast-track construction methods and off-site manufacturing to speed up delivery times, T Squared said.
Innovation minister Lord Bethell said: "This investment into new facilities at PHE Porton Down will enable its dedicated and expert scientists to accelerate the pace and scale of specialised testing to support the critical work of the Vaccine Taskforce."
Head of vaccine research projects at PHE Porton Down, Bassam Hallis said: "This investment will accelerate the development of potentially life-saving vaccines to help get them to the public more quickly."
T Squared has also built a series of production facilities for leukaemia drug Ewrinase at PHE's Porton Down site.