Plan would see contractors compensate clients where buildings failed to meet energy performance standards
Scape is considering introducing contract conditions penalising contractors if buildings fail to perform as designed after completion.
The option, described by Scape's performance and improvement director Chris Clarke as a "game-changer", would see contractors compensate clients where buildings failed to meet the energy performance standards set out in the design after completion or rewarded if performance exceeded expectations.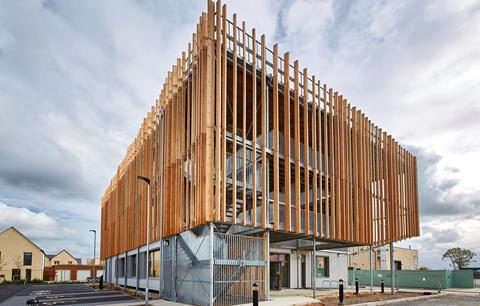 He said: "There needs to be sharing of risk and reward so the contractor is on the hook if the building doesn't perform, but equally if the building is cheaper to run than the client thought the contractor gets a share in the first couple of years."
In an interview with Building Boardroom, Clarke said clients would have to be prepared to pay more for guarantees and contractors would not be forced to sign up to minimum performance standards.
The move is part of Scape's response to the zero carbon ambitions of its public sector clients. Clarke said that many local authorities had declared a climate emergency with numerous aiming for net zero carbon emissions construction by 2030.
Scape spent five months researching its net zero policy and how it was going to embed sustainability requirements into upcoming frameworks starting next year.
It is currently letting two consultancy frameworks worth £1bn. Clarke said designers will need to show evidence that they have successfully delivered low carbon buildings. They will also need to demonstrate they can improve their low carbon skills during the life of the framework.
Contractors who are bidding for Scape's new construction frameworks will need to show how they will deliver feasibility, pre-construction, construction and aftercare services to maximise the sustainable value to the client and against Scape's policy.
Organisations will also be quizzed about their carbon footprint, their approach to embodied carbon and minimising materials waste.
Scape is currently letting a £11bn construction framework for England, Wales and Northern Ireland and a separate £2bn framework in Scotland. The new frameworks will replace the current construction framework which expires next year.