Sandwell concerned about potential impact on schools jobs if contractor goes bust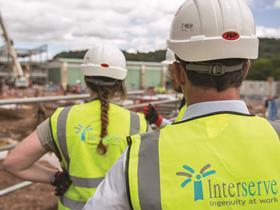 A West Midlands council is asking Interserve to plan for its own demise as concern for the contractor's survival continues to grow.
Sandwell council's local education partner Sandwell Futures Limited (SFL) has revealed it is considering asking Interserve to create a "living will" to help prepare for any potential collapse, according to a report prepared ahead of yesterday's meeting of the council's audit and risk assurance committee.
The contractor, which has already been asked to create a living will by central government, has the exclusive right to major capital works at high schools in the borough and provides FM services to a host of schools in the area.
A council spokesperson confirmed to Building: "The possibility of drawing up a localised 'living will' is currently being explored by SFL."
A spokesperson for Interserve said it could not comment on individual contracts with clients but that it is working on plans with lenders to put the contractor on a firmer footing.
The spokesperson said lenders "were very supportive and committed", while the Cabinet Office had "expressed full support" for its recovery plan.
Sandwell's report reveals Interserve is working on three education projects in the borough worth £16m and is due to provide 825 school places in the 2019/20 school year.
But the council has raised concerns about its ability to provide enough year seven places should Interserve collapse before the schemes are completed.
The council spokesperson said it would find "a temporary solution" to accommodate students should Interserve fail to finish the projects, scheduled for completion between July and September this year.
The documents also reveal SFL and the council had identified "significant condition issues" at Perryfields high school's Jubilee Block, built by Interserve in 2012.
The papers said SFL was "currently pursuing Interserve for a resolution to this matter" with the cost of replacing the existing structure set to be around £3m.
The report also revealed a string of measures designed to continue facilities management services should Interserve go bust.
These measures, which have either already been or are in the process of being implemented by SFL, include the transfer of key personnel in the day-to-day management of the council's capital projects as well as FM services and contract data from Interserve's services arm to ensure continuity of access.
Meanwhile, Interserve's partner on three of the contractor's problem energy-from-waste (EfW) plants, US energy-tech firm Babcock & Wilcox, has revealed the three incinerators it is building with the firm will now be finished in the first half of this year.
Completion dates for the plants in Rotherham, Margam and Dunbar have been repeatedly pushed back, with problems in the EfW sector costing Interserve more than £220m and forcing it to enter a second round of rescue talks with creditors following the initial agreement it struck last spring.
Part of this latest rescue deal could see it hand its profitable shoring and formwork business RMD Kwikform to creditors.
In an update last month, Interserve admitted lenders were interested in acquiring RMD Kwikform, which made a pre-tax profit of £15m on £42m turnover in 2017.