Gordon Kew will join the private contractor this month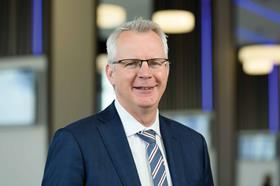 ISG has appointed an ex-Interserve boss as its new chief operating officer for construction.
Gordon Kew was managing director of UK construction at Interserve until September, when he was squeezed out under the group's 'One Interserve' streamlining initiative.
Interserve merged its UK and international construction operations, with the head of its international team, George Franks, heading up the newly consolidated division.
Now Kew (pictured) has been appointed to oversee the construction business at ISG, while existing chief operating officer Paul Weaver will oversee the engineering side of the business.
He will also sit on the company's statutory board.
Kew worked at Miller Construction from 2002-2008, before spending 10 years at Interserve; he starts at ISG this month.
Interserve has since made two further board members redundant: Yvonne Thomas, head of its citizen services division, and Robin O'Kelly, head of communications.
Kew's appointment is part of a wider management rejig at ISG, which sees the board almost double in size, from four to seven members.
Jane Falconer and Matt Blowers, who have been promoted to chief human resources officer and chief operating officer for fit out respectively, have also been appointed to the board.
Earlier in January ISG was appointed to build a new stand at Lords cricket ground in Marylebone.
Expanded ISG board
Paul Cossell, chief executive officer
Mark Stockton, chief financial officer
Richard Hubbard, chief marketing officer
Jane Falconer, chief human resources officer
Paul Weaver, chief operating officer for engineering services
Matt Blowers, chief operating officer for fit out
Gordon Kew, chief operating officer for UK construction.