Councils have urged the government to provide a £400m fund to repair damage caused by recent storms and flooding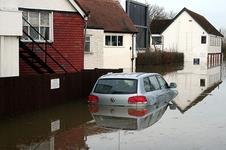 The Local Government Association called for the Department for Transport to create a highways maintenance emergency fund following the recent spate of heavy rain and flooding.
The LGA said initial information supplied to the Asphalt Industry Alliance's ALARM survey of council highways managers in England and Wales, the estimated road repair cost of the recent spell of flooding was around £400m
But the LGA warned the amount could yet rise higher, with the full survey results to be published in April.
A similar fund was created following similar severe flooding in 2007 and was designed to help affected local authorities with capital funding for emergency and unforeseeable capital works to their local roads network.
Councillor Mike Jones, chair of the LGA's Environment and Housing Board, said: "Councils have worked round-the-clock since the bad weather began last month to protect residents and minimise disruption and will continue to help those who remain affected by flooding.
"The severe weather has left behind a daunting trail of destruction for councils to clear-up and fix. We were already facing a £10.5 billion repair backlog to bring our highways up to scratch and the damage to our roads by this recent flooding will be considerable and costly.
"An emergency highways maintenance fund would provide essential support to those councils who now face hefty and unexpected repair bills as a result of the flooding."