John Sinfield replaces Geoff Cooper in the role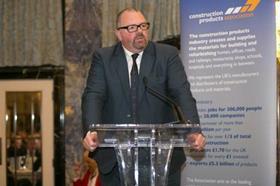 The Construction Products Association (CPA) has appointed John Sinfield as its new chairman.
Sinfield is managing director of Knauf Insulation in Northern Europe.
The CPA represents the £40bn-turnover UK construction products and materials sector.
He replaces outgoing chair Geoff Cooper, chief executive of Travis Perkins, in the role.
Sinfield said: "A year ago we were suffering the worst quarter on record, but the CPA's latest forecasts shows that the construction industry's contribution to the wider UK economy will grow from £110bn this year to £130bn by 2017 – we have certainly turned a corner.
"Given all the political uncertainty over the coming year, with regulatory doubt over energy security, costs, and carbon measures, we need manufacturing to be underpinned by a vibrant, long-term, cross-party industrial strategy which enables the UK to capture supply chain advantages for firms here in this country. I therefore look forward to leading efforts to help bring key players together to find a way forward on these matters.
"The Association is already undertaking a number of projects in support of the Industrial Strategy for Construction which are at the heart of these matters. One is a study of a long- term projection of construction output and an analysis of the current level of capacity for construction product manufacturing.
"Another is to assess the regulatory and political risks that may inhibit further investment in businesses here. All of this will provide clarity and insight for policy-makers and help them appreciate the challenges we face.
"Our Association is also involved across the wider supply chain with important work such as the digitalisation of construction using Building Information Modelling, the actual-versus- designed performance argument, and ensuring a low-carbon, resource efficient built environment.
"There is a tremendous amount of very important work to be done which will have a very real impact on our businesses. However, we are well placed as the leading voice within our industry to help the wider construction and manufacturing communities to engage and work together.
"I'd also like to take this opportunity to thank Geoff Cooper, CEO of Travis Perkins, for his hardwork and dedication during his time as the CPA chairman and I look forward to continuing his success."