London Assembly member to scrutinise Crossrail's failure to design review outer London stations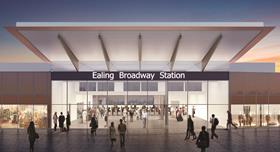 Bosses running the £15bn Crossrail project are to be quizzed in the London Assembly over the scheme's architectural quality following the revelation that outer London stations are not being design reviewed.
Building revealed last month that Crossrail had decided against using a dedicated design review panel set up by watchdog Cabe on 27 of its redeveloped surface stations after previously using such expert advice on its new-build underground stations in central London.
This move was attacked by former culture secretary Tessa Jowell MP and architect Richard Rogers, who warned the stations may not live up to the country's "great railway heritage".
This week RIBA president Stephen Hodder also waded into the debate, warning that a lack of design review on the stations could leave a "mediocre legacy".
"Design review provides an independent, low-cost way of ensuring that the new stations in the Crossrail project become the benchmark for design quality and are distinctive and engaging places each community can be proud of," he added.
Now, Caroline Pidgeon, Liberal Democrat leader in the London Assembly and deputy chair of its transport committee, has said she intends to question Andrew Wolstenholme, Crossrail's chief executive, and Terry Morgan, Crossrail's chairperson, when they appear before the committee next month.
Pidgeon said she was concerned about the quality of surface stations and believes budgets for design have been squeezed too far.
She said: "For what they're spending on the whole project, it wouldn't cost much more to make these really great stations.
"It's about legacy and about producing truly inspiring buildings which can help with regeneration."
Pidgeon said she was particularly concerned that west London's Ealing Broadway, which is being redesigned by Bennetts Associates, was being done "on the cheap".
"Ealing Broadway is such an important transport interchange that to not have a state-of-the-art station is a real missed opportunity," she said.
A Crossrail spokesperson said the design review panel had been used on major new build stations in central and South-east London, but it was adopting a different approach on surface stations.
"Major redevelopment of these surface stations is not required to enable Crossrail services to operate," the spokesperson added.
Bennetts Associates declined to comment.
The poll that was originally attached to this story has now closed.
We asked: Should Crossrail use design review on all its stations?
Here's how you voted: