London mayor says 'quality and quantity' of information being shared has skyrocketed since Sir Terry Morgan's departure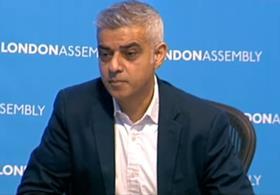 London mayor Sadiq Khan has continued his row with ousted Crossrail chair Sir Terry Morgan, saying he is much more confident in the project's new management team.
Answering questions in the London Assembly, Khan said the level of information being provided to Transport for London, which the mayor chairs, had improved significantly since Morgan's exit.
He said: "As far as I'm concerned as the mayor and chair of Transport for London, the quality and the quantity of information I now receive since the previous chair left Crossrail Ltd and we got a new team in is far, far superior."
Khan (pictured) was backed by TfL commissioner Mike Brown, who also told Assembly members that there had been a stark improvement in the transparency at Crossrail Ltd since Morgan departed in December.
Brown said: "I would just echo what the mayor has said [about the difference] in terms of the quality of the information, the direct interaction with the Crossrail team now that we have a different chair, a deputy chair and a chief executive in place is really quite marked.
"There is quite a difference in the openness, the continuing dialogue that I'm getting, and the mayor is getting, because of those changes in personnel."
Khan and Morgan have been engaged in an ongoing feud over who knew what about the problems facing the £17.6bn project.
At the end of last year Khan accused Morgan of "misremembering" the truth about when he informed the London mayor of significant delays to the scheme after Morgan repeatedly stated that Khan was told of the scheme's delay on 26 July 2018 in an interview with LBC.
The new Crossrail leadership team is made up of ex-Infrastructure and Projects Authority boss Tony Meggs as chair, former Labour MP Nick Raynsford as deputy chair and chief executive Mark Wild, who is on loan from London Underground.