Consultant recommends railway bosses reveal which firms are meeting targets
Crossrail has been told to name and shame contractors that fail to meet its health and safety standards.
The company has tightened up the way data is reported after three near-miss incidents on the £18bn job over Christmas.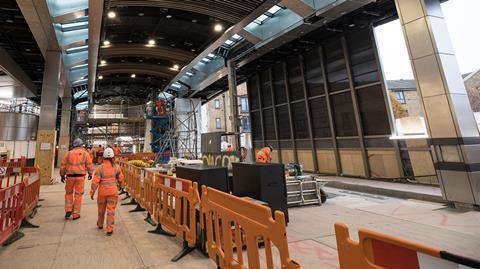 Its chief executive told the London Assembly's transport committee chair Navin Shah that ensuring the supply chain was managing health and safety on its sites was a top priority.
Mark Wild said Crossrail recorded contractors' ability to manage risks through a health and safety performance index, which is made up of several indicators against which contractors assess themselves.
Now a report by Jacobs, the US engineer asked to keep tabs on the project by Transport for London and the Department for Transport, has told Crossrail's bosses to bring attention to firms who are meeting standards.
In the report, which covers the period between 8 December 2019 and 4 January 2020, Jacobs said tier 1 firms had been challenged to raise their own performance levels, rather than just rely on Crossrail.
"We support this approach and would suggest Crossrail considers highlighting which suppliers are delivering against this challenge," it added.
An earlier report by the firm, which was also made public this week, criticised the overall performance of main contractors, saying tier 1 firms had consistently scored themselves at a higher average mark during October to November last year, the period under review, but that this then fell when checked by Crossrail.
"This drop is extremely disappointing and represents complacency by the tier 1 contractors in their own performance," it said.
In papers prepared for today's meeting (5 March) of TfL's programmes and investment committee, Crossrail said it had carried out serious incident executive reviews for the three near-miss incidents. It said it had subsequently gone five weeks without an injury or lost-time incident.