Five of the new directors come from outside the firm
Currie & Brown's UK business has appointed eight new directors to the business.
Five are new to the company, while three have been promoted from within the company.
Four of the company newcomers will work out of the London office in Holborn – Subramaniam Krishan, Steve Parker, Jim Tucker and Tony Wadeson.
Wadeson is one of the new directors joining the infrastructure team and will have particular responsibility for estimating and cost planning. Most recently he was project director at Leslie Clark, having been with Sweett for 33 years before that.
Currie & Brown bought Sweett in September 2016 after trumping WSP's takeover offer of £24m made that May.
Parker has also joined the infrastructure team as director of rail, having previously worked as head of rail at EC Harris.
Krishan will become a director within the Currie & Brown health planning team and has worked as transformation director for South Essex Partnership University NHS Foundation Trust and project director for Surrey and Borders Partnership NHS Foundation Trust.
Tucker's background is in the utilities, environment, renewables and aviation sectors. And Ken Scott, a former director at Capita subsidiary Northcroft, has joined the company's Edinburgh office.
The three current Currie & Brown employees who have been promoted are Mike Bertie in the Edinburgh office, Gavin Ferraris in the London office and Brian Rennison in the Jersey office.
Announcing the appointments, Alan Manuel, chief operating officer of Currie & Brown's UK and Europe business, said: "They are joining at an exciting time for the company as we look to expand our infrastructure and project management teams."
The appointments come as the Lebanese firm, Dar, that owns Currie & Brown, as well as architect Perkins + Will has begun the hunt for a main contractor to build its new headquarters in London's Holborn district, with work set to start early next year.
Dar said the new building, which will house 1,100 staff, marked the beginning of a major push into the infrastructure and property markets in the UK. Currie & Brown has around 230 staff at its nearby existing office with all of them set to move once it is completed.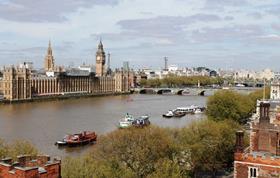 Last summer, Currie & Brown landed work on the Palace of Westminster revamp (pictured) as part of the Ch2m team to carry out programme, project and cost management work on the scheme.