London project is Chinese firm's debut UK scheme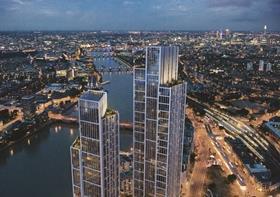 Chinese developer Dalian Wanda has played down reports it is looking to sell off a handful of high-profile global projects including London's One Nine Elms – but admitted it is carrying out a strategic review of its schemes.
In an announcement from the Hong Kong Stock Exchange, the company said media reports that it was attempting to sell its projects in the UK, US and Australia for $5bn (£3.77bn) were false.
The statement said: "The reports are untrue because the company has not entered into negotiations with any third party regarding the sale of the Group's property projects for US$5 billion."
But the firm added: "The company is approached by third parties from time to time about its property projects and the company would ascertain interest in its property projects from time to time.
"Following the recent changes in some directors of the company, the company is undertaking a strategic review of its property projects and will consider any business opportunities which can create value for shareholders."
The announcement follows an article in the South China Morning Post that reported the Chinese developer had offered five large-scale projects to a single buyer as Beijing tightens its restrictions on companies' offshore investments.
Wanda acquired the $1bn One Nine Elms development from Green Property in 2013. In January, Multiplex was confirmed to build the £1bn twin-tower scheme, which was Wanda's debut UK project.
The US projects reported to be part of the package are Vista Tower in Chicago and a $1.2bn luxury condominium and hotel complex in Beverly Hills, California.
The company's Australian holdings that were said to be on the sell-off list are the $1bn Circular Quay apartment and hotel tower in Sydney and the $900m Jewel project on Queensland's Gold Coast.