Ecobuild latest: Energy minister Ed Davey announces government strategy to tackle fuel poverty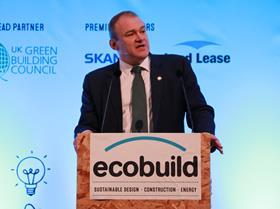 Doctors will be invited to prescribe boilers, insulation and double glazing to patients they judge to be ill in part because of fuel poverty, energy secretary Ed Davey has announced at the Ecobuild event in London.
Announcing the government's strategy to tackle fuel poverty, Davey said doctors should prescribe energy efficiency home improvements to help tackle diseases exacerbated by cold homes.
Davey announced a £3m package of funding for pilot schemes designed to tackle fuel poverty, including £1m released immediately for "warmth-on-prescription" projects.
The remaining £2m will be released "in the coming months" to support other pilots, "not just in health but also for off gas grid, park homes and community energy approaches", the Department for Energy and Climate Change said in an accompanying statement.
The government's new fuel poverty strategy wraps together these new initiatives with previously announced plans, including the legally binding target – in force since December 2014 – requiring a minimum standard of energy efficiency band C in as many fuel poor homes as "reasonably practicable" by 2030.
Davey told the Ecobuild conference that by focusing on enery efficiency, the fuel poverty strategy was a "win-win" for tenants living in cold homes, and their landlords wanting help to improve and upgrade their properties.
Davey said he wanted to use the link with GPs to turn fuel poverty into "one of the next big public health campaigns of the future." He said: "Bringing together health and fuel poverty could be one of the most significant boosts this sector has ever seen."
Davey also announced that the Green Construction Board had asked chief construction advisor Peter Hansford to review the effectiveness and practicality of solid wall insulation, in order to "report on its long term potential for innovation and deployment." He said this review would ultimately provide greater confidence for the construction industry to invest in skills, technology and innovation.
"Although there have been over 180,000 solid wall insulations since 2010, we all know that this can sometimes be a really difficult and invasive procedure. That puts people off," he said. "it's with this in mind that the Green Construction Board has commissioned Peter Hansford to consider all the evidence."
Other measures outlined in the fuel poverty strategy are:
Regulations that from April 2018 private landlords cannot rent out energy inefficient properties - homes with energy performance ratings below 'E'
Tackling the problem of fuel poverty in off gas grid properties with a £25m fund to help people install central heating systems for the first time
Extending the Energy Companies Obligation scheme to 2017, so a further 500,000 properties are made cheaper and easier to heat.
The fuel poverty strategy covers a 15 year period.
Commenting on the plan to allow GPs to prescribe home improvements, Dr Tim Ballard, vice chair of the Royal College of GPs, said: "The Royal College of GPs welcomes this new fuel poverty strategy. It marks an important turning point in acting on what we have known for some time: that cold homes contribute to the most vulnerable people being unhealthy and can even be lethal for them.
"The new strategy provides a long-term framework in which the health sector has a vital role to play, in partnership with government. The new funding for health-related pilot projects is especially needed and will help build the case for more investment to cut the cost of warmth and help reduce the burden of cold homes on the health service."