Consultant appointed to provide long term cost management support to residential developer Pocket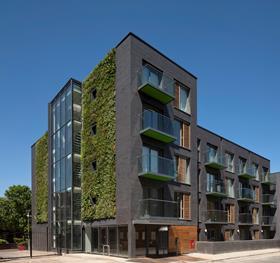 Consultant DBK has been appointed to provide cost management support to residential developer Pocket over the next ten years.
DBK will also provide employers agent and CDM services.
Pocket plans to build up to 4,000 homes over the period.
Pocket was recently awarded a £21.7m loan from the Greater London Authority to help develop the homes, which are aimed at single and couple first time buyers.
DBK is currently working on the first tranche of one bedroom apartment schemes. The first site in Hackney, which offers 31 homes, will be on sale imminently, while other projects in Lambeth, Camden and Ealing are planned to commence in the New Year.
DBK recently completed work on £3m Pocket Fermoy Road scheme (pictured) for Pocket, which was designed by Darling Associates and includes 32 one-bedroom apartments.
Steve Kelly, managing partner of DBK said: "Pocket helps first time buyers living and working in London to get onto the property ladder, many of whom have been saving for years and face ever-rocketing rents.
"DBK is delighted to be part of the innovative and forward thinking team that is helping to support Pocket in its delivery of affordable homes to the residential marketplace."
Nick Williams, operations director for Pocket said: "The DBK team has consistently demonstrated an in-depth knowledge and understanding of the residential market and associated development and cost and project management skills to our team."