Innovative scheme from Royal Academy of Engineering allows SME staff to work in larger companies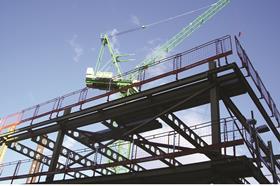 An innovative programme to allow engineering technicians working for SMEs to develop their skills by working with larger firms is to be rolled out.
The Royal Academy of Engineering's 'technician secondment programme' has just completed a pilot placement involving SME consulting engineer Crofton and Laing O'Rourke.
The programme will now be rolled out over 20 more placements with large firms including Network Rail, Rolls-Royce and Tata Steel due to take part.
The scheme is the first of its kind and is intended to help SMEs with the development of staff mid-way through their careers and to encourage greater supply chain co-operation.
Civil engineer Martin Riches, who works at Crofton and is also studying for a BEng in Civil Engineering, spent four weeks working on site at a major Laing O'Rourke project in Essex.
He said: "The secondment provided me with excellent onsite experience on a major construction project for an international firm. Crofton has recognised the long term benefits of the secondment to my career and I believe the wider industry should take note of the benefits the programme can bring.
"Being challenged outside of my normal working environment has given me greater confidence and awareness of my skills. I believe the initiative is important in promoting the role of technician as a career choice, and could be developed further if it was linked with obtaining professional technician membership with professional bodies."
Colin Banks, engineering director at Laing O'Rourke added: "Training and development is critical at all levels; in every role, throughout the various stages of our careers. Whilst Laing O'Rourke invests hugely in the development of its own engineering expertise, initiatives such as the Technician Secondment Programme afford us the opportunity to provide tangible support and learning experience to people within the SME supply chain."
For more information contact the programme's manager for 2013 Stylli Charalampous, head of further and higher education at the Royal Academy of Engineering stylli.charalampous@raeng.org.uk.