Zafar Khan tells inquiry he did not see the firm's liquidation coming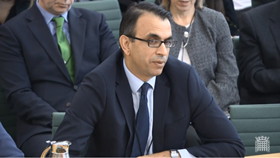 Carillion's ex-finance director Zafar Khan has revealed the company's catastrophic collapse took him by surprise.
Speaking at a joint committee inquiry into the events leading to the contractor's liquidation, Khan (pictured) said he never thought the firm would fail.
Khan said: "I was surprised at the outcome that eventually came to pass."
When questioned on what this meant about his capability, Khan defended his performance.
"I don't believe I was asleep at the wheel. As soon as I came into the role we were looking to tackle the issues and the key focus in my time in the role was to bring net debt down."
"I believe I did everything I could have done essential. Debt was high, we said at the outset we would look to reduce that."
This drew criticism from business select committee chair Labour MP Rachel Reeves who said that within four months of Khan's departure from the firm Carillion had collapsed, leaving thousands of workers, pension holders and suppliers in the lurch.
MPs also scorned Khan for a slip where he said the company's debt had been reduced under his reign.
He went on to say that this was in fact not the case, rather that debt reduction had been an aim.
Khan clarified: "The debt increased through 2017. We were unable to get the debt down. It wasn't because we were oblivious."
The former finance director also revealed he felt he had been sacked based on a report he submitted to the board which "spooked" them.
"Post the 10th of July trading update we had committed to a range of initiatives to improve the position of the business and key within those was continue focusing on cash flow and also delivering the revised forecast. As we went through July and August… things didn't improve much.
"I provided the board with a further update in September and not long after that I was asked to step down from the board. In the conversation I had with Mr Cochrane I was told the update I had provided had spooked the board and several lenders were unhappy."
Cochrane said the reason for replacing Khan with Emma Mercer was that he wanted someone in the role who had experience within the UK construction business.