Former RMJM staffers in Hong Kong issue press release spelling out their grievances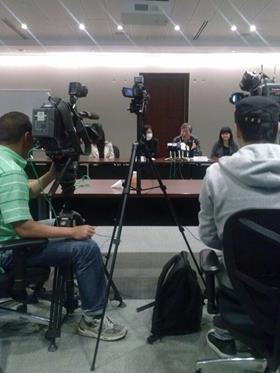 Former RMJM staff in Hong Kong who claim they are owed more than £250,000 in missing wages have taken the unprecedented step of releasing a press release detailing their grievances.
The 25 have also asked a member of Hong Kong's legislative council to intervene in the dispute.
According to Building's sister title Building Design, at a press conference on the issue this weekend councillor Lee Cheuk Yan said he was "shocked" to learn of the problems and has now asked the government to look into the issues raised.
In their statement, the 25 said they had followed the proper procedures to recover their missing money which they say totals HK$3.37m (£265,000) but added that "Labour Tribunal payment orders have been neglected by the company, leaving the claimants waiting for periods of over 10 months and yet to receive their missing wages".
A spokeswoman for the group, Liliana Silva, said a winding-up petition she has issued against RMJM's Hong Kong arm is now due to be heard on 5 March.
She served the petition last November after claiming RMJM had failed to pay her nearly £27,000 in missing wages despite being told to do so by a Labour Tribunal.
Building Design said the firm is facing a further three petitions with the first due to be held next week.
RMJM's commercial director Declan Thompson, who is listed as a director of RMJM's Hong Kong business, said: "It would be inappropriate to comment on the specifics of the press release by former employees other than to say the facts and circumstances are not as set out in the release and the matter will be resolved appropriately and in accordance with local laws.
"The practice of stoking the unparalleled press attention in negative stories about our business continues and perpetuates an impression of difficulties at RMJM. The reality is that we have faced and overcome many problems over the past few years which, whilst challenging, have never approached the magnitude of the story which has developed in the press."
Thompson said the firmplans to open a new office in China later this year and would be adding a further three studios to its business in the coming months.