Firm returns to talks after Bovis makes offer including £300m cash payment
Galliford Try saw its share price shoot up by 20% after revealing it has rekindled talks with Bovis Homes over a possible £1.1bn sale of its housing and regeneration arms.
Bovis, which is headed by former Galliford Try boss Greg Fitzgerald, has already seen one takeover bid rebuffed by Galliford Try in May.
But the housebuilder has now offered to pay £300m in cash, as well as £675m in new shares and take on an £100m debt placement, in exchange for the contractor's Linden Homes and Partnerships & Regeneration businesses.
In a statement Bovis Homes and Galliford Try said they "have agreed high-level terms upon which the potential transaction would be implemented," but said a final deal was still contingent on factors including due diligence tests.
Under the fresh proposal, Galliford Try shareholders would receive 0.57 Bovis stocks for every share they held.
Bovis' previous offer, which valued the businesses at just £25m less, did not include any cash offer.
The deal, turned down in May, proposed to buy the businesses with new equity worth £950m and absorb the £100m debt.
In Galliford Try's last full set of results, Linden Homes posted revenue of £947m on operating profit up 8% to £184.4m.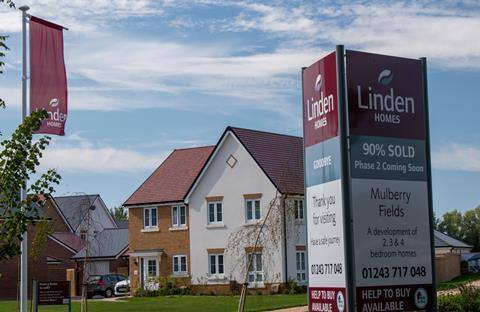 The Partnerships & Regeneration arm reported revenue of £475m with operating profit up 58% to £23.6m.
Together the businesses exceed the £1.1bn revenue reported by Bovis for 2018, and the operating profit of £174m.
In 2017 Galliford Try tried to buy Bovis Homes for £1.2bn, but saw its offer rejected.
Tony Williams, analyst at Building Value, said: "This [merger] should have happened the first time of asking.
"Bovis will re-emerge as a different animal, and in a lean market it can muddy the performance issues. For Galliford it is manna from heaven: it solves all financial issues and provides more cash than market value."
Galliford Try's share price was up 10% on its previous close as of 10.45am this morning, after having initially surged in value by a fifth.
Shares in Bovis Homes fell 4%, as investors reacted to the prospect raising debt to pay for the buyout.
In its interim results, also published today, the group reported a 9% increase in turnover, to £472, and a 20% increase in pre-tax profit, to £72m.
Galliford Try has now said its remaining division – which is has a newly-honed focus on buildings, water infrastructure and highways – would become a "well-capitalised standalone construction-focused group, benefitting from the recent operational restructuring".
The announcement comes as it prepares to unveil its full-year results tomorrow morning.
In May Galliford Try said it was cutting a tenth of its construction workforce and looking to shave £400m off its £1.7bn construction turnover in a bid to boost margins.
Despite a £157m rights issue in spring 2018, the Galliford Try group has suffered at the hands of two problem infrastructure jobs in Scotland.
Galliford Try and its JV partner Balfour Beatty are currently pursuing £500m in damages from Transport Scotland for cost overruns on the Aberdeen bypass, while it also announced a £40m write-down for the Queensferry crossing scheme earlier this year.