Cash will be used to cover soaring Aberdeen bypass costs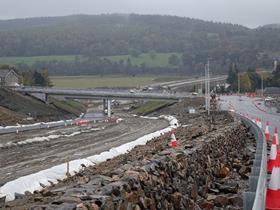 Galliford Try has completed a rights issue to cover spiralling costs on the problem-plagued £745m Aberdeen Western Peripheral Route project.
The firm this morning confirmed it had raised £157.6m in a 1 for 3 rights issue of shares discounted by 33% of their present value, which was underwritten by its banks.
The contractor revealed the proceeds would be used to cover soaring costs in relation to the bypass, which it is building with remaining joint venture partner Balfour Beatty. The pair's other joint venture partner Carillion went bust in January.
Galliford Try said the soaring costs had been compounded by Carillion's implosion, with the firm's total cash commitments to the project increasing by more than £150m – although it said this was "prior to any recoveries".
Galliford Try revealed in its results last month that it had taken a further £25m hit on the scheme on top of losses it announced on the job last year.
Balfour Beatty's 2017 results also confirmed that Carillion's implosion in January had cost the firm, with the contractor taking a £44m hit on the job.
Following Bill Hocking's appointment to the position of chief executive of the firm's construction business, the group has changed its tendering policy and no longer bids lump sum, fixed price jobs.
Peter Truscott, Galliford Try chief executive said: "We see excellent opportunities and demand for both our private and affordable homes businesses and our construction business continues to benefit from the current and planned investment in the nation's infrastructure.
"The rights issue proceeds will strengthen the group's balance sheet and ensure that the group's businesses are in a position, with the appropriate capital, to deliver on their respective growth opportunities."
The construction business's operating profit margin increased to 0.9% from 0.4% in the second half of 2017. The order book has been maintained at £3.5bn
Last week, Transport Scotland said it had been forced to amend the opening date of the problem road until the autumn – meaning it will be a year late.