Advisers warn contractor it will claw back only £100m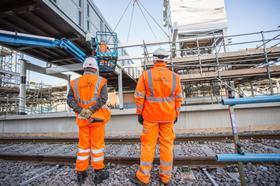 Galliford Try has been told by its advisers it should expect to claw back around £100m – less than half the amount it believed it was entitled to recover – over its problem Aberdeen road job.
Reporting its annual results today the contractor said the latest hit to its profit of £51m, up from £45m last year, included a further £26m write down on the Aberdeen Western Peripheral Route (AWPR) which it worked on with Balfour Beatty and, before it went bust last year, Carillion.
Galliford Try also posted a £7m hit over the Queensferry Crossing job and £5m in costs following the group's move to restructure the business – leaving its construction business with a £62m operating loss for the year ended 30 June.
The firm said it was still trying to strike a deal with client Transport Scotland over the road claims, while the Scottish government has shown little inclination to cough up.
In a statement the contractor said: "Over the last three financial years, we have recorded £152m of exceptional losses in relation to AWPR.
"Consultants have advised an expected recovery of around £100m to Galliford Try, although the total assessed value in respect of the claims under the contract is over twice that level."
In August Balfour Beatty chief executive Leo Quinn said told Building his firm had until the end of the year to come to a negotiated agreement with Transport Scotland – or formally begin legal action.
He said the joint venture was due "hundreds of millions" and added: "The job was sold for £530m but has cost over £1bn to deliver." He said the joint venture had been forced to shoulder around £500m in extra costs.
The Abderdeen road job has bedevilled the firms involved, with Carillion citing problems on the 58 km-long stretch for contributing to its demise, while the costs of completing it and the Queensferry Crossing saw Galliford Try launch a rights issue last March to raise £157m.
Galliford Try has responded to its troubles by taking a scalpel to the business, shedding 300 jobs and re-opening talks with rival housebuilder Bovis over the £1.1bn sale of its Linden Homes and partnerships and regeneration businesses, a move it claimed would strengthen its remaining construction operations.
The firm posted turnover of £2.9bn to the end of June 2019, down from £3.1bn last year, with pre-tax profit, after exceptionals, of £105m, down 27%.
Pre-exceptional profit was £156m, down from £189m last year.
Turnover at its construction business dipped 18% to £1.4bn, with a pre-exceptional loss of £15m, down from a £16m profit last year.
Its Linden Homes arm generated an operating profit of £161m, down 13% year-on-year, on turnover of £820m, also down 13%.
Profit at the partnerships business rocketed from £24m to £35m on turnover up nearly a third to £623m.