Exclusive: The £4.4m claim from cladding firm is second claim Galliford Try faces relating to athletes village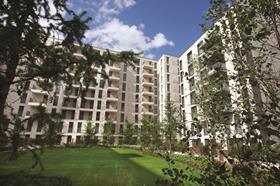 Galliford Try is facing a second High Court battle with a subcontractor over delays during construction of the London 2012 athletes village, Building has learned.
Cladding contractor Prater lodged a £4.4m claim against Galliford Try last month, it has emerged, alleging the contractor "presided over a chaotic and shambolic site", causing delays and losses to Prater.
The claim relates to delays on the final two plots of the athletes village, N13 and N26 where Galliford Try was the main contractor. The plots were together worth £80m and comprised 14 blocks and 423 units, according to construction analyst Barbour ABI.
Prater, which says its contract was worth £11.3m, is the second subcontractor to lodge a High Court claim against Galliford Try relating to delays on the job, after concrete subcontractor Reddington filed a £6.8m claim against Galliford Try last summer.
Galliford Try hit back against Reddington last November with a £7.7m counterclaim, alleging the delays were in fact caused by Reddington. That case is scheduled to be heard next June.
Galliford Try's athletes village job hit delays from the outset, including a 19-day site shutdown to investigate an accident shortly after construction began in summer 2010.
Overall construction manager Lend Lease eventually handed over the two plots to the Olympic Delivery Authority six weeks late in December 2011.
In its claim, Prater contends Galliford Try failed to provide "leadership to organise, plan, manage and co-ordinate the works" of its subcontractors, and its subcontract works were delayed "on a recurring and continuing basis".
Prater claims Galliford Try "prioritised" completion of other subcontract works, including the delayed concrete frame, to the detriment of its works, and that these preceding subcontract works were handed over late, causing delays to its works.
Prater claims stairs were not fitted on schedule, so internal trades had to access the building using the external scaffold, where Prater was meant to be working, hampering its progress.
Prater also argues Galliford Try "made a late change" to its plans and instructed it to install the facade from top down rather than bottom up, which caused "major delay and disruption".
A Galliford Try spokesperson said: "Galliford Try refutes the allegations made within Prater's statement of claim and is defending this action vigorously.
"As legal proceedings are ongoing it would be inappropriate to comment further at this time."
Prater declined to comment.
Galliford Try has been embroiled in two other payment disputes with subcontractors on the athletes village job.
Building has learned scaffolder Benchmark - which was initially pursuing £2.5m - has settled with Galliford Try out of court, although it is understood the subcontractor's management consider the dispute the main factor behind it falling into administration in July 2011. The firm has since been rescued.
Drylining subcontractor MPG told Building in November 2012 that a £2m payment dispute with Galliford Try was the "dominant" reason for it becoming insolvent.
Galliford Try declined to comment on the other payment disputes. Benchmark declined to comment.