Cost consultants, engineers and architects in running for £1bn campus masterplan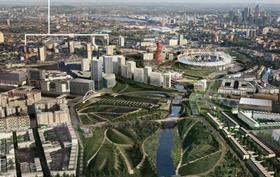 University College London (UCL) has shortlisted a clutch of top cost consultants, architects and engineers for its proposed £1bn campus in Stratford, east London.
The firms – including Gardiner & Theobald and Aecom – will now be invited to submit a full tender to work on the campus masterplan.
Full shortlist –
Architects: Hopkins Architects; John McAslan & Partners; Farrells; Make; AECOM
Engineers: Atkins; Arup; Pell Frischmann; Buro Happold; AECOM
Cost Consultant: Gardiner & Theobald; Sweett Group; Summers Inman ; AECOM; Jones Lang LaSalle
Transport & Traffic Consultant: Arup; SKM Colin Buchanan; MVA Consultancy; Pell Frischmann; WYG Environment Planning Transport
Tenders are to be submitted by 1 March 2013 and successful firms will be notified by April.
The current timetable would see a draft masterplan prepared by the end of this year, with the delivery of a final version coming at some point in 2014, to support a planning application for the site.
Adam Harman, project director, UCL Stratford said: "The calibre of this shortlist is incredibly high and testament to the significance of the project. The care put into the submissions by the shortlisted teams was quite inspirational.
"We are delighted to have had such high quality responses from so many exceptional companies who have a wealth of international experience and are capable of delivering a sustainable quarter that would support UCL's academic, research and enterprise activities now and in the future."