Blow to consultants as university's commercial negotiations with Newham council fail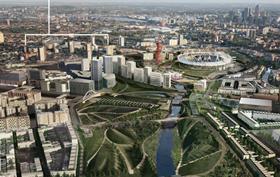 UCL has abandoned its plans to build a £1bn campus on the edge of the Olympic park in east London.
In a statement the university and Newham council said negotiations for the project, which centred around the Carpenters Estate site, had ceased for commercial reasons.
The news will be a blow to several architects, engineers and cost consultants that were shortlisted for roles on the regeneration project in February, including architects Make and Hopkins, engineers Atkins and Arup and cost consultants Gardiner & Theobald, Sweett and Aecom.
A spokesperson for Newham Council said: "We are disappointed that we were unable to bring UCL to the Carpenters Estate. The council remains supportive of UCL establishing a major presence in Stratford.
"We recognise that this decision will bring further uncertainty for residents of the estate.
"Newham Council remains committed to redeveloping the Carpenters Estate and will now explore other options to take this forward.
"A number of parties have expressed an interest in working with Newham Council to help regenerate the Carpenters Estate.
"These were not pursued while UCL and Newham Council were in exclusive negotiations. We will now reopen discussions with those and other interested parties."
Professor Malcolm Grant, UCL president and provost, said: "This was an ambitious but extremely complex proposal and the process of intensive and lengthy examination has led us both to conclude that the challenges of cost, timescales and risk were too great.
"However, the process has re-affirmed the commitment of both parties to establishing a UCL presence in Stratford. UCL has ambitious plans for growth in the coming years as we move beyond the capacity of our central London location to meet the demand for suitable space to support the development of world-class teaching and research. We remain confident of the benefits a presence in Stratford would deliver both to UCL and the local community, and we will continue to work closely with Newham Council and other stakeholders to make this ambitious project happen."