Exclusive: Switch follows moves by Aecom directors to G&T, and three more major wins for G&T on King's Cross scheme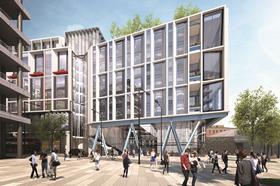 Aecom has been replaced by Gardiner & Theobald as cost consultant on Google's £300m UK headquarters in King's Cross, London.
Building understands the switch happened in the past few months, after senior staff at the former Davis Langdon business within Aecom working on King's Cross moved to Gardiner & Theobald (G&T). These include directors Alex Davey, Jon Eyles and David Elsmore - who was Davis Langdon's lead on the Google job.
It is understood that further members of Aecom's King's Cross team have followed Davey, who joined G&T in June. Aecom now has a smaller role consulting on infrastructure for the Google project, Building understands.
Building revealed in April that Davis Langdon won the role of cost consultant on Google's 1 million ft2 AHMM-designed UK headquarters, where Argent is development manager.
Aecom's global head of buildings and places Jason Prior described the Google project at the time as an "important one" to win.
The changes come amid success for G&T with developer Argent on the wider £2bn regeneration of King's Cross.
Building understands G&T has won Argent's last three major cost consultancy tenders on the project, including its gasholders residential project, as well as both of the two buildings on the planned Aga Khan cultural centre.
One source close to King's Cross said Argent was shifting its attention from the former Davis Langdon business - which has worked with Argent on King's Cross since the inception of its masterplan in 2001 - to G&T.
The source said: "It's a big move as traditionally DL was seen as Argent's QS."
Argent has up to £1bn worth of construction work at King's Cross still in the pipeline, around half of the total £2bn development (see box, below).
The former Davis Langdon business has provided multiple services on the entire scheme including cost management, employer's agent, programme and project management and worked on individual projects including the Central Saint Martins College of Arts and Design's campus and Granary Square.
Another source close to King's Cross said Argent was still working with Aecom on six projects across the wider scheme.
An Aecom spokesperson declined to specify what roles it still had on the project or which staff had moved across to G&T. The spokesperson said: "Aecom works with Argent on a number of projects and across a number of disciplines at King's Cross. Aecom is also working with Google at King's Cross."
A G&T spokesperson declined to comment, other than to confirm that it had been working with King's Cross Central Limited Partnership for over 18 months.
Argent declined to comment. Google was unavailable for comment.