Government due to publish updated guidance this afternoon
Lawyers have again warned that the health and safety of workers needs to be at the top of the industry's concerns after Boris Johnson gave construction the official green light to return to work last night.
Dozens of contractors and housebuilders have already taken it upon themselves to get sites, previously shut in the days after the prime minister introduced the lockdown on 23 March, up and running – before last night's announcement.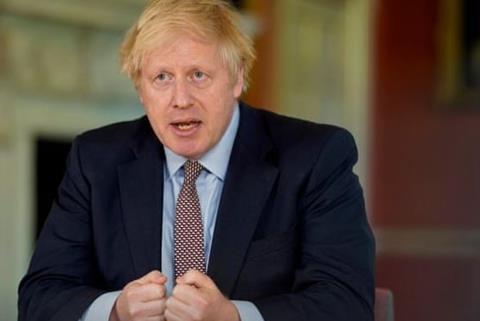 Construction was never officially ordered to shut down like other sectors such as schools and pubs and restaurants while the government has repeatedly said it was one of those industries that was vital to the country's economic recovery from the covid-19 pandemic.
Several ministers said sites should continue to operate during the lockdown – as long as was safe to do so. Last month, following Taylor Wimpey's decision to reopen its sites, housing secretary Robert Jenrick told Building he wanted to see more construction sites follow suit, as long as they were following government health protocols.
But lawyers have warned firms not to follow last night's intervention by Johnson, in which he said workers in construction "should be actively encouraged to go to work", without having adequate health and safety procedures in place first.
The Construction Leadership Council has been issuing its site operating guidance that is the benchmark for firms to follow.
But Feildfisher partner Andrew Sanderson, who specialises in health and safety law, said: "Construction has industry-specific health and safety regulations and site operating procedures that may need to be updated following the prime minister's statement.
"This will create further confusion in a sector that has been largely left to work out its own approach to the protecting the health of its workers during the lockdown."
The government is due to issue a detailed 50-page roadmap for exiting the lockdown, including fresh guidance on how workplaces will be reopened, this afternoon.
But Sanderson said: "Regardless of how useful this guidance is, employers have a legal obligation to protect the health and safety of their workforce and should already be considering how they can safeguard workers when they return to work.
"They should be considering how employees and other individuals – such as customers and supplies – can remain socially distant, whether particular areas of the workforce are at higher risk and whether they have appropriate facilities such as handwashing and sanitation facilities."
And Erin Shoesmith, Addleshaw Goddard's head of health and safety, said firms should be required to publish a risk assessment to provide reassurance it is safe to return to work.
Shoesmith said: "Restarting operations without control measures informed by a proper risk assessment will open a Pandora's box.
"Businesses will be held to account and directors will also be worried about their personal liability if poor controls are later found to have exposed employees to an unsafe environment."
Brendan Sharkey, head of construction and real estate at MHA MacIntyre Hudson, said firms needed to think about different ways of working.
He said: "To make sites safer one of the government's priorities should be to facilitate the move to biometrics for staff sign in. Eye and facial recognition, as used in airports, will provide robust worker recognition and cut the risk of contagion."
Sharkey also suggested that temperature monitors should be installed on large sites, while sites should be allowed to be open from 6am to 7pm, instead of the current 8am to 6pm, to make staggered shifts possible during the longer summer days.