New regional director expects "rapid and significant" growth in response to booming online sales
Warehouse contractor Glencar Construction has opened a new office in Manchester as it gears up for a rapid expansion of work in the region fuelled by the increase in online spending.
Dawa Singh, the firm's new northern regional director, told Building that the pipeline of opportunities for logistics schemes across the region was "really significant".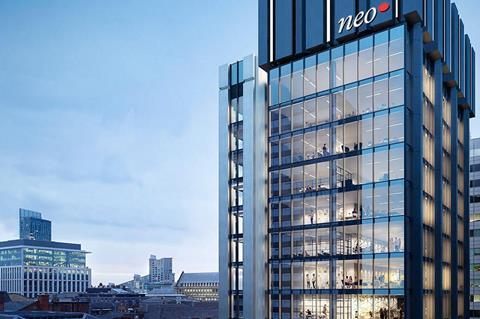 Singh, who was appointed to the role in April after 23 years at regional contractor J F Finnegan, said: "What we're seeing is quite rapid. Clients post-pandemic are keen now to get schemes through planning and get them to site.
"We're seeing a number of clients speculatively developing quite significant opportunities in the North-west and North-east, so we have to position ourselves to ensure that we can service that pipeline of work."
Glencar is benefiting from a boom in online sales across the UK and the demand for more storage among retailers. As high street shops were forced to close because of lockdown restrictions, internet sales have jumped by £34bn, or almost 20%, year on year.
Research by Knight Frank, the property consultancy, recently found that 40 million sq ft of new space is due to be built this year, twice the amount completed last year.
The value of online sales is expected to exceed £150bn by 2024 and, according to Knight Frank, every billion pounds of online sales requires about 1.4 million sq ft of warehouse space.
> Also read: Rethinking Design: what's in store for warehouses?
Glencar, which is expecting turnover to hit £300m this year, opened its office in Manchester's city centre Neo Building at the beginning of May with room for 12 staff. But while Singh said he expects "significant" growth over the next five years, he has not set any specific targets.
"We don't want to just chase turnover. We want to be doing the right sort of projects for the right clients. And ultimately it has to be viable."
He said the firm's business in the region has already received letters of intent from two clients for two major schemes, and is looking at a number of others.
Glencar's recent schemes in the region include speculative logistics warehouses of 90,000 and 138,000 sq ft for PLP at its Ellesmere Port site, which were completed in April.
It has also built warehouses of 92,000 and 43,000 sq ft for PLP at Crewe Commercial Park and completed fit-out works on a giant 525,600 sq ft warehouse at Haydock, St Helens, occupied by cereal giant Kellogg.
In December last year, Glencar topped a Sunday Times list of the UK's 100 fastest growing private companies in terms of sales after a 441% growth over three years.