Communities secretary has issued a notice preventing demolition work at 72 Upper Ground site ahead of possible call in
Plans to turn the former ITV headquarters on London's South Bank into new offices have been thrown into doubt after Michael Gove issued an order stopping demolition work at the site, Building can reveal.
Earlier this week, it emerged Lendlease had won a £400m contract to redevelop the site at 72 Upper Ground making it one of the biggest building jobs in central London to be let this year.
Known as Project Vista, the firm pipped Sir Robert McAlpine and Laing O'Rourke to the deal which has been designed by Make Architects and is being developed by Mitsubishi Estate and CO-RE.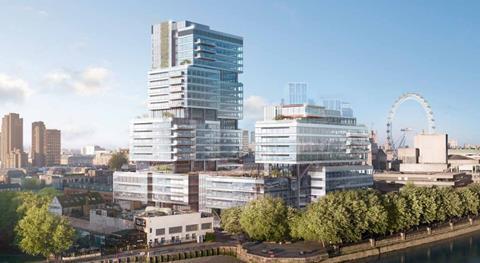 But the scheme has attracted controversy with local opposition calling it "a swollen deformity" while the local MP said it should be redrawn.
Make's plans were given planning by Lambeth council at the end of March, although a Lambeth planning report recommending it for approval admitted they were "controversial and extremely unpopular".
A spokesperson for the Department for Levelling Up Housing and Communities said Gove, who is the secretary of state, had now issued a so-called Article 31 notice for the site – similar to the one he dished out last month preventing Westminster council from making a decision on whether retailer M&S can go ahead and knock down its 1930s block on Oxford Street.
In a statement, the DLUHC said: "The Secretary of State has issued an Article 31 direction pausing the application to demolish the former ITV Studios while ministers consider whether it should be 'called-in'. Before ministers will consider whether to call in or not, Lambeth council will refer the application to the Greater London Authority."
The plot was bought by Mitsubishi Estate and development manager CO-RE for close to £150m in November 2019.
Their plans would see ITV's London studios tower flattened and replaced with two 26- and 13-storey office towers connected by a six-storey podium. Responding to the Gove's decision, a spokesperson for 72 Upper Ground said: "Our proposals to transform a dormant, closed-off central London site into a new mixed-use development that prioritises high-quality workspace and the provision of new arts and cultural space will be a great addition to the South Bank."
Before the Lambeth planning hearing in March, Vauxhall MP Florence Eshalomi, in whose constituency the site is located, said the scheme would cause a "substantial degree of unnecessary harm" and called for the application to be reconsidered.
No reason for the latest Article 31 notice at the ITV studios site was given but, as well as being criticised for its appearance, Building understands concerns are growing at government level about the wisdom of developers knocking down buildings and replacing them.
Last November, Gove threw out Foster & Partners' plans for the Tulip in the City saying it contained "too many compromises to amount to world-class architecture". He also questioned the "highly unsustainable concept of using vast quantities of reinforced concrete".
One source said: "Lots of developers are looking at things like this [ITV decision]. It looks like Gove is trying to send a message."
M&S wants to replace its flagship store with a 10-storey block by Pilbrow & Partners. But a report on the scheme by Simon Sturgis, the GLA's carbon advisor, claimed nearly 40,000 tonnes of CO2 would be emitted during construction, on top of the 53,000 tonnes of embodied carbon over the building's 60-year lifespan.
The DLUHC said the application was still being assessed "against published policy on calling-in applications and a decision will be issued in due course".