New names from the industry include recruits from Marks & Spencer, Hammerson, and Willmott Dixon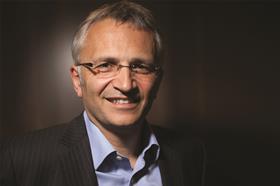 The government has unveiled a refreshed Green Construction Board, with a clutch of new names from the industry, including Marks & Spencer's design boss and the head of sustainability at developer Hammerson.
The refreshed Green Construction Board (GCB), unveiled by the Department for Business, Innovation and Skills, will continue to be jointly chaired by business minister Michael Fallon (pictured) and Mike Putnam, Skanska UK president and chief executive, but has a host of new names.
New additions include Rob Pearce, head of design and specification at Marks & Spencer, and Louise Ellison, head of sustainability at Hammerson, along with Rob Lambe, managing director at Willmott Dixon Energy Services and Paul King, chief executive of the UK Green Building Council.
James Wates, chairman of Wates, Sunand Prasad, architect and former RIBA president, and Andrew Gould, Jones Lang Lasalle chief executive, are among seven industry figures to step down from the board.
The GCB was set up in 2012 to provide leadership to the sector on reducing carbon emissions and capitalising on low carbon growth opportunities, as well as monitoring implementation of the Low Carbon Construction Action Plan.
In February, the government confirmed that the GCB would continue its work for a further two years, with the board handed a key role in delivering the ambition of a 50% reduction of greenhouse gas emissions by 2025, which was set out in the government's industrial strategy for construction.