Hitachi to decided next week on Anglesey nuclear development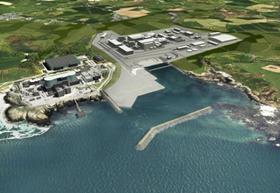 The government's plans for the nuclear sector are under fresh scrutiny after another Japanese firm said it was looking at pulling the plug on a UK scheme.
Plans for the £14bn Wylfa Newydd (pictured) nuclear power plant in north Wales are up in the air, with Japanese media reporting Hitachi is considering scrapping the deal because of soaring costs.
According to Japan's TV network Asahi, the Anglesey scheme may be scrapped with the project expected to be discussed at a board meeting of the Japanese firm next Tuesday.
The news comes weeks after Toshiba announced plans to wind up NuGen, scuppering the company's plans to build a nuclear plant at Moorside, next to Sellafield.
But China General Nuclear, which is working on Hinkley Point C with EDF and has plans for another plant at Bradwell in Essex, has floated the possibility of rescuing the stranded Moorside scheme.
Speaking at the Nuclear 2018 conference Rob Davies, the UK chief operating officer of CGN, said: "With the demise of NuGen there is a gap in the UK's nuclear programme; the expected sequence of reactors coming down the line has been interrupted.
"We are confident we can close that gap by bringing Bradwell into operation much sooner."
When asked whether CGN was interested in building on the Moorside site, by Sellafield in Cumbria, Davies replied: "Moorside is a very smart site. A nice site."
"Our commitment is to Bradwell. [But] to make nuclear successful you need a fleet effect and Moorside is a nice site."
Should Hitachi abandon the Wylfa Newydd project it would leave just Sizewell, Bradwell and Oldbury with confirmed teams in place after Hinkley Point C in Somerset.