Regulations making it illegal for landlords to rent out the most energy inefficient homes presented to Parliament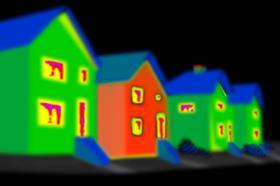 The UK Green Building Council (UKGBC) has hailed energy efficiency regulations presented before Parliament today as the "most siginficant piece of legislation in a generation".
Energy secretary Ed Davey is presenting regulations to make it illegal for landlords to rent out the most energy inefficient homes and properties from April 2018.
The Minimum Energy Performance Standards (MEPS) were first mooted in 2010, but were delayed due to Conservative reluctance to impose more regulations.
The MEPS mean that from April 2018 landlords will be required to install energy saving measures in homes and non-domestic buildings which fall into the two worst energy efficiency ratings, Energy Performance Certificate (EPC) bands 'F' and 'G'.
From April 2016, landlords of privately rented homes will also be required to accept reasonable requests from tenants for energy efficiency measures to be installed.
John Alker, acting chief executive of UKGBC, said: "This could be the single most significant piece of legislation to affect our existing building stock in a generation, affecting a huge swathe of rented properties. Government deserves huge credit for sticking to its guns.
"Some will undoubtedly cry 'red tape', but good landlords and forward-thinking property companies have nothing to fear. This could provide the impetus needed to upgrade our worst-performing, most energy-hungry rented properties and help to kick-start a multi-million pound market in energy efficiency products and services in the UK."
Ian Fletcher, director of policy for real estate at the British Property Federation, said: "Since Royal Assent on the Energy Bill 2011 the property industry has been working constructively with the Government on what form the Minimum Energy Efficiency Standard regulations will take, and today's announcement is another welcome step on the road to giving the industry certainty on the detail and method of introduction of this policy.
"Property owners have been negotiating leases for 2018 and beyond for some time now, will be carrying out programs of refurbishment, and want to know the targets they have to meet in order to safeguard the value of their investments. A building that is below the set standard will be devalued and hence the need for certainty."