Client's lead tells inquiry she wanted clarification on west London tower's cladding following 2009 fire in Southwark
The client side project manager tasked with overseeing the refurbishment of Grenfell Tower has told the inquiry into 2017's disaster that she flagged concerns spurred by 2009's Lakanal House fire but did not read a key safety document in relation to her own scheme.
Claire Williams, who was Kensington and Chelsea Tenant Management Organisation's project manager on the Grenfell refurbishment from 2013 until its practical completion in 2016, said she knew a contractor connected with the earlier Southwark fire and understood cladding was an issue.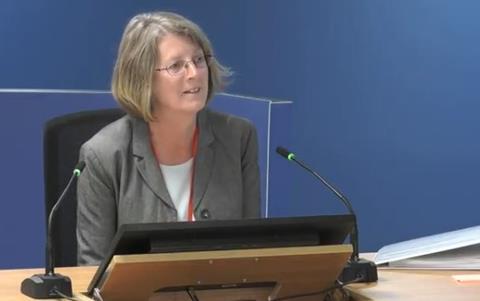 Williams was being quizzed about an email she sent to Simon Lawrence, who was contracts manager for design and build contractor Rydon in November 2014. In the mail she described having a Lakanal "moment" in relation to Grenfell.
"I am just writing to get clarification on the fire retardance of the new cladding" she wrote to Lawrence. She added: "I just had a Laknall moment", misspelling the name of the slab block in Southwark where six people died.
Grenfell Tower Inquiry lead counsel Richard Millett QC said there is no record of Lawrence responding to the mail, although the former Rydon manager told the inquiry in July that he would probably have passed Williams' query on to project facades specialist Harley.
Williams said she believed Lawrence had given a verbal assurance along the lines of "of course it meets those standards" at a later site meeting.
Millett asked her whether she had any recollection of Lawrence actually answering the question. She replied "no".
Millett also asked Williams why she had not pressed Rydon for a clear written answer to her question, given that it broached serious safety issues. "In hindsight, I wish I had," she responded.
Willams told the inquiry into the 14 June 2017 fire, which claimed 72 lives, that former colleague James Cousins, had worked for a company involved with the Lakanal House refurbishment. She said she understood that one issue connected with the 2009 fire at the south London block was the replacement of asbestos panels with new cladding that was not fire-retardant.
Williams said her conversation with Cousins about the Lakanal fire would have taken place before she joined KCTMO in September 2013. Millet asked her why she had waited more than a year to ask questions about the safety of the cladding proposed for Grenfell Tower.
"I wasn't clear enough on the external construction of Lakanal House to know that there was a similarity," she said.
"The project had been on the books since 2012, there was a professional team on site and lots of discussions about cladding. I assumed at the time that many of those conversations would have been had earlier."
Williams was also asked about former KCTMO head of capital investment David Gibson's claims that Rydon contracts manager Simon Lawrence had given an assurance that the insulation being put on Grenfell Tower was "completely inert".
The assurance was supposedly given at a project team meeting at which Williams was present, along with Philip Booth of consultant Artelia, who was KCTMO's employer's agent at the time.
Millett asked Williams whether, when she saw footage of Grenfell Tower on fire on the morning of 14 June 2017, she had thought: "Simon Lawrence told me it couldn't burn; how come it's burning?" Williams responded: "No, that wasn't uppermost in my mind at the time."
No minutes of the meeting at which the "completely inert" assurance was given have been found, although Gibson and Williams say they had hard copies of them at one stage. Booth does not recall being at a meeting when such an assurance was given. Lawrence disputes ever giving the alleged assurance.
Williams began her evidence on Monday by admitting that she "binned" notebooks covering her time at KCTMO before she stopped working for its parent organisation the Royal Borough of Kensington and Chelsea in 2018.
Exova report went unread
She was subsequently asked about her knowledge of a fire safety assessment for the Grenfell Tower refurbishment project, written by consultant Exova for the TMO in November 2013.
The document said: "It is considered that the proposed changes will have no adverse effect on the building in relation to external fire spread but this will be confirmed by an analysis in a future edition of this report."
However, Exova was not retained by Rydon once it became main contractor in 2014 although it continued to provide some advice on an ad-hoc basis. The report was written before key decisions on the aluminium composite material (ACM) cladding fitted to Grenfell Tower and the combustible insulation placed behind it were taken. The report was never updated.
Barrister Millett asked Williams whether she knew that Exova had said its report would need to be updated. She replied "no".
He asked her how it was possible that she did not know that information as the person at KCTMO "at least nominally in charge" of the Grenfell Tower refurbishment project.
"It was not pointed out to me," she replied. "But the Stage D report was about the cladding and I would assume that any further reports from 2012 would cover the cladding.
"The Stage D report was very clear there was going to be cladding and it talked about what the options were."
Williams told the inquiry she believed Rydon had planned to keep Exova as its fire safety consultant once it was awarded the design and build contract for the project in 2014.
The inquiry heard that minutes from a few meetings from an April 2014 contractor's induction meeting onwards indicated that Rydon was being asked to do something about bringing Exova on board.
Millett asked Williams why the minutes did not record her chasing Simon Lawrence up on the issue. "It wouldn't be my role to do that. It would be Artelia as employer's agent to make sure there were no gaps in the professional team," she said.
Inquiry chairman Sir Martin Moore-Bick said Williams had given a similar answer on a number of occasions.
"I'm getting the impression that you left everything to Artelia and didn't take much of an interest in what was going on," he said. "Would that be fair?"
Williams disagreed. "My role was to manage the client side, not manage the contract," she said.
The inquiry subsequently heard that in April 2016 Williams had sought details of the latest fire safety strategy for the project from Rydon's then site manager Dave Hughes, who sent her Exova's November 2013 report.
Williams said she had not read the document, which still contained the paragraph pointing out that the report would be updated in future.
She told the inquiry she "assumed" that the project team was "on board" with safety but had not updated the document yet.
Asked if she had any explanation about why she had not noticed that Exova had been promising a future edition of the document that she had not received, Williams answered "no".
The inquiry continues.