North London council to apply to Sadiq Khan's affordable housing grant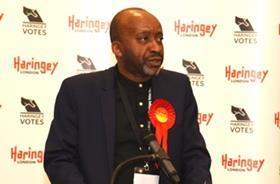 Haringey council plans to finance its own housebuilding operation with funds from the mayor of London's affordable housing grant after ditching its housing partnership with Lendlease.
Last month the north London council's executive voted to throw out the Haringey Development Vehicle (HDV), which was designed to build around 6,000 homes and which the previous Labour council had agreed in principal with the Australian contractor.
As well as the prospect of facing legal action from Lendlease to recover costs incurred as it worked towards starting the £2bn scheme, Haringey has to find the money to build the 1,000 homes it has pledged to put up during the four-year term of the current administration.
It plans to build those homes through a wholly-owned company which it expects to be officially launched sometime later this year.
In addition to using unspecified funds from the mayor's affordable housing grant, a council spokesperson said it would also borrow from elsewhere but gave no details as to where it would source such funding from.
In a letter to Haringey council's leadership team including council leader Joseph Ejiofor (pictured) dated 16 July, Lendlease's European chief executive Dan Labbad questioned the ability of the local authority to meet its housing obligations via the sort of wholly-owned firm it was planning to establish.
And Labbad said there had been nothing in the report which the current Labour administration had used to decide to scrap the HDV which contradicts "the conclusion that the council carrying out the work itself would require a level of borrowing that would be impossible for [it] to sustain."