£500m scheme will include revamping 1930s Art Deco landmark
Atkins has been appointed to project manage a £500m upgrade of Birmingham Airport which will include bringing back into use an Art Deco gem at the site.
The firm will oversee work to extend the airport's terminals and reconfigure the airfield by 2033.
Among the proposals for the next 15 years is a plan to refurbish the airport's first terminal building and turn it into an accommodation and training centre for airport staff.
The Elmdon building, made famous for its over-hanging canopies which resembled aeroplane wings, was opened in 1939 but last used in 1984. It was damaged by severe flooding early last year.
It was designed by Norman and Dawbarn, which carried out a number of commissions during the airports boom of the 1930s, and listed at grade II last August, sparing it from the wrecking ball.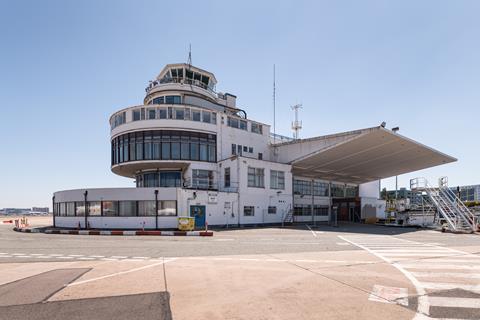 Atkins will also be lead designer on the scheme which is expected to cater for 18 million passengers a year by 2033 – a rise of 40% on the 13 million a year using the airport today.
A public consultation on the masterplan closed at the end of January with a revised version set to be published this summer.
Among the proposed work over the next 15 years is increasing space at the North terminal's departure lounge by 40%, upping the number of aircraft stands by 11 to 69 in order to take larger aircraft and reconfiguring the South terminal arrivals facility.