Agency replaces HCA with more planning and land buying powers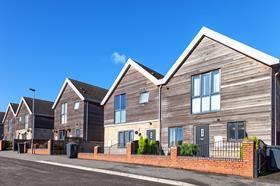 The Government has launched Homes England in a move it claims can help fix the "broken housing market".
It will replace the Homes and Communities Agency (HCA) to bring together existing planning teams and new land buying powers.
The government said the new agency will play a major role in securing land in areas where people want to live, support smaller house builders and resource brownfield sites to deliver homes for families.
It claimed it will also be a major driver in helping to deliver an average of 300,000 homes a year by the mid-2020s, which is being backed by investment of £44bn from the government.
Housing secretary Sajid Javid said: "This government is determined to build the homes our country needs and help more people get on the housing ladder. Homes England will be at the heart of leading this effort.
"The new agency will be key in replicating this approach right across the country and will help us build a Britain fit for the future."
Homes England chairman Ed Lister, who held the same role at the HCA, added: "We will take the lead in delivering better quality homes and great places that set the bar high for others. We will also stimulate demand for Modern Methods of Construction and ultimately disrupt the housing market."
Some 310 local authorities have now published a brownfield register, revealing over 26,000ha of developable land on over 16,000 sites. Homes England said that by prioritising the areas where people want to live and where developers can build, it will use the registers to progress brownfield development across the country.
It will develop a new "commercial approach" to acquiring, preparing, managing and developing land in areas of high demand, while focusing on using both the land and money to support builders.
The launch of Homes England has been welcomed by housing bodies, who are confident it can accelerate the drive to build more homes.
Terri Alafat, chief executive of the Chartered Institute of Housing, said: "The agency promises to bring together a greater range of strategic powers and resources, which combined with its expertise, will allow it to take new and innovative approaches which could make a real difference to get us building more homes at a crucial time."
Melanie Leech, chief executive of the British Property Federation, added: "It's clear there is growing momentum behind the government's housing agenda and we are delighted with the continuing policy support for a multi-tenure approach to housing supply, creating great places and the remediation of land."