Power company looks to start procurement process for nuclear plant development in Anglesey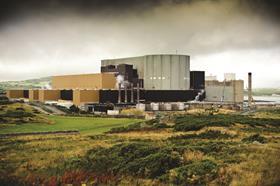 Horizon Nuclear Power is preparing to engage with contractors interested in building the first of its planned next-generation nuclear power plants, Wylfa Newydd in Anglesey.
Horizon's site development director, Charlie Tasker, told Building the client will split procurement of the contracting work into two main areas.
The client will procure one engineering, procurement and construction contract for the large-scale, nuclear site-focused work, and a further contract covering all other aspects of the project, in particular off-site infrastructure on Anglesey, such as workers' accommodation, park-and-ride facilities, a logistics centre and road improvements.
Horizon is currently expanding its team in readiness to deliver the development. Last week it hired Greg Evans from Centrica Energy to become operations director for the Wylfa Newydd project.
Tasker told Building that Horizon expects up to 60% of the total project value to be spent on UK suppliers.
Over 50 contracts for the power station have already been awarded locally, Horizon said, including 15 associated with the site ground investigation works contracts, and the company say they will look to appoint local contractors wherever possible.
Tasker said: "There is no doubt that our project presents sizeable opportunities for local and regional companies, and we'll be looking to appoint contractors who are local to our project wherever we can."
Horizon has already got a major permission in place with the completion of the Regulatory Justification process for its chosen nuclear reactor technology, the Hitachi-GE UK ABWR, and aims to get all major permissions "in place by 2018, ready for initial generation in the first half of the 2020s".
The firm has already appointed Amec Foster Wheeler, Atkins, Cavendish Nuclear and Jacobs UK to a technical and engineering services framework.
Hitachi-GE, Horizon's technology supplier, will also lead the delivery team and appoint a delivery partner to work alongside them.
The "multi-billion pound investment" is expected to generate several thousand secure jobs on the island, with Horizon working closely with colleges and universities in the area to find and attract enough skilled workers for
the project.