Contractor's disastrous foray into energy-from-waste saw firm rack up crippling losses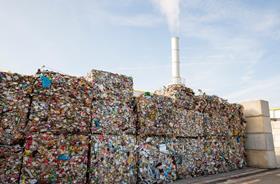 As Interserve shareholders rejected the firm's rescue plan and push it into administration the industry was left asking how another contractor got itself into this mess.
At the shareholder meeting to determine the company's future, chairman Glyn Barker said everything started to go wrong in the middle of 2016.
He said: "Huge problems in EfW contracts began to manifest themselves.
"Not only did they produce huge losses and drain the company's cashflow, but because of the unusual nature of these projects, over the following two years, as things continued to deteriorate, there remained great uncertainties about what it would cost, finally, to deal with these problems."

Barker also blamed comparisons to Carillion, which he said made it harder for the firm to win work and recruit staff.
The timeline below charts the mounting financial problems Interserve has faced ever since it announced its then chief executive of 13 years Adrian Ringrose was leaving back in November 2016.
That news was followed just a day later by the revelation that its client on the Glasgow energy-from-waste job had kicked it off the scheme.
Earlier that year, in May, Ringrose had said the cost of getting out of the energy-from-waste sector would be £70m.
At the last count that figure had gone up more than three times that amount to stand at £227m, with two jobs still unfinished despite being due in 2017.
Following the shareholder meeting, the trading of Interserve shares was suspended – but the stock started the day worth 9.5p per share. The last price attached to Interserve's shares, which were officially delisted on 18 March, was 6.3p.
Interserve started 2018 with a 99p share price, hitting a year-high of 123p four days after the collapse of Carillion on 15 January.
The firm's debt has also headed north with Interserve saying last November that it would be up to £650m by the end of 2018. At the end of 2017, it stood at £503m.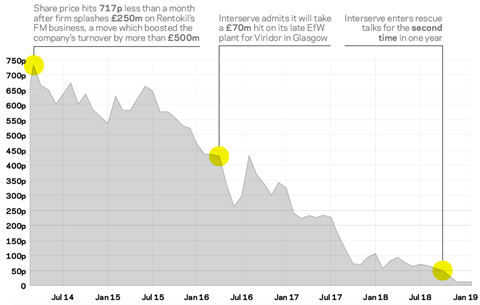 10 June 2019: It's revealed Interserve went under owing creditors more than £100m
3 June 2019: The parent company of the client which booted Interserve off an energy-from-waste scheme in Glasgow more than two years ago writes off a further £23m from the amount it reckons the firm owes it because of worries over its ability to pay up.
15 May 2019: Interserve says the man who set up the Paragon fit-out business it bought six years ago Matt Bray has not left the firm – despite resigning as a director of its parent. He resigned as a director of Interserve Construction, its UK contracting business, less than two years after being appointed.
29 April 2019: Interserve is among firms which are kicked-off the government-endorsed Prompt Payment Code for failing to pay suppliers on time.
25 April 2019: It is revealed that a row has broken out between Interserve and Sandwell council over who is responsible for the closure of a school building which has forced the local authority to shell out more than £1m on emergency classrooms since January.
24 April 2019: Interserve's chief financial officer Mark Whiteling becomes the latest director to leave following months of turmoil which climaxed with the contractor entering administration in March.
11 April 2019: The Financial Reporting Council launches an investigation into Grant Thornton's audits of Interserve's financial account
25 March 2019: Interserve's EfW clients said the firm's administration added piled on uncertainty about unfinished jobs. Meanwhile the client on Interserve's Glasgow EfW job wrote-off more cash it says it is owed by the contractor.
20 March 2019: Government minister Oliver Dowden branded Interserve's rebel shareholders, led by Coltrane, "greedy capitalists".

17 March 2019: Interserve reassures sub-contractors and staff that everyone will be paid, while Glasgow EfW client Viridor says it is still pressing the company for a £64m payment it says is outstanding. Meanwhile, rebel shareholder Coltrane said blame for shareholder wipeout sits with Interserve – not its rebellion.
15 March 2019: At the start of the day Interserve's subcontractors are bracing themselves for the firm's crash into administration. At 11am an Interserve general meeting begins before a shareholder vote on the firms rescue plan. The meeting is sparsely attended. By 2pm Interserve announce they have lost the rescue deal vote, and later that afternoon they announce they will apply for administration, with lenders agreeing to write-off more than £800m. By nightfall big-four accounting firm EY confirm they are the administrator.

13 March 2019: It is revealed that Interserve has been warned it faces being booted off its Derby EfW scheme if it doesn't complete the project soon. Meanwhile, it is revealed the opening date for a £25m hotel and residential scheme Interserve is building in the heart of London's Soho has slipped again.
12 March 2019: It emerges Interserve has been told it owes the client on an energy-from-waste scheme in Glasgow "significantly" more money than previously thought. Meanwhile, Interserve holds talks with the largest owner of its stock Coltrane as it fights to stave-off a shareholder rebellion.
11 March 2019: Interserve's chief executive and chairman say that if it loses the upcoming shareholder vote on its rescue plan it faces going into administration the same day.
7 March 2019: Interserve disposes of another problem job as it hands over an energy-from-waste plant in Rotherham two years after its original due date.
5 March 2019: Interserve's largest shareholder Coltrane unveils a new proposal to rescue the contractor as it continues to fight Debbie White's deleveraging plan, which Interserve quickly knocked back, saying they could not consent to the request that would see creditors given just 55% of the business under a debt for equity swap rather than the 95% Interserve says they should have.
27 February 2019: Details of Interserve's revised rescue plan which it hopes will raise around £435m to help pay down its debt and restore investor confidence in the struggling contractor are revealed. Meanwhile, Interserve also publishes its financial results that show its ongoing financial mess is now affecting its ability to win work.
26 February 2019: Interserve confirms the EGM requested by rebel shareholder Coltrane Asset Management will take place on 26 March.
25 February 2019: Problems with smells, noises and toxic fumes are among hundreds of complaints which have helped to hold up handover of Interserve's energy-from-waste scheme in Derby, documents obtained by Building reveal.
19 February 2019: US hedge fund Coltrane Asset Management turns up the pressure on Interserve after it increased its equity voting stake in the contractor from 17.5% to 27.7%
12 February 2019: Interserve's streamlining initiative claims its most senior figure yet with main board director Dougie Sutherland leaving the firm. Sutherland was the man in day-to-day charge of the firm's energy-from-waste contracts which have so far racked up crippling losses of more than £220m.
6 February 2019: Interserve unveils details of its plan to deleverage the firm's balance sheet that will be finalised in coming weeks, before being put before Interserve's existing shareholders for approval. In an update on the plans, the firm said it expected to reduce its net debt to around £275m by issuing around £480m of new Interserve equity to its creditors.
The new equity will amount to a 97.5% stake in Interserve
29 January 2019: Interserve confirms it has finished the first of four energy-from-waste plants which dogged the contractor for more than two years and cost it over £220m. It announces it has finished the plant in Dunbar, Scotland, with JV partner Babcock & Wilcox and that it has now been handed over to client Viridor.
10 January 2019: Building reveals a West Midlands council has asked Interserve to plan for its own collapse as concern for the contractor's survival grows.
4 January 2019: American energy-tech firm Babcock & Wilcox says all three of the incinerators it is building with Interserve will be finished in the first and second quarters of 2019.
21 December 2018: Interserve confirms it is considering whether to hand subsidiary RMD Kwikform to creditors as it also reveals a portion of new equity will be offered to investors.
20 December 2018: Boss of citizen services, Yvonne Thomas, a member of the Interserve's executive board, leaves following more management shuffling.
18 December 2018: Executive board member Robin O'Kelly leaves Interserve after his position, the group's director of communications, his position was cut as part of Fit for Growth.
10 December 2018: Interserve's share price halved in the first couple of hours of Monday trading, down 90% from a January high, as investors responded to the second rescue plan
8 December 2018: Reports emerge that firm is seeking second rescue deal this year under proposals which would see creditors take control of company
3 December 2018: SEC group chief executive Rudi Klein tells subcontractors to go direct to clients to get paid on Interserve jobs
23 November 2018: Shares slide as firm says year end net debt will be between £625m and £650m
21 November 2018: It emerges that government has asked Interserve to draw up 'living will' in case it goes bust
13 November 2018: Interserve shares sink to 34 year low
9 November 2018: Build UK figures reveal Interserve queries over 80% of its invoices
6 November 2018: Building reveals Interserve has missed deadline for handing over Derby energy-from-waste plant and that its JV partner on scheme may have to carry the can for its share of additional costs
August 2018: Firm says cost of energy-from-waste has gone up to £227m. Net debt at half year to 30 June hits £614m
May 2018: Financial Conduct Authority launches probe into handling of its exit from the energy-from-waste business. Gordon Kew, then the managing director of Interserve's UK construction business who would leave in August, says: "The whole energy-from-waste portfolio we expect to be out of this year." Viridor says Interserve owes it £69m on Glasgow scheme
April 2018: Announces £244m pre-tax loss for 2017 with net debt at year end standing at £503m. Cost of energy-from-waste rises again to £215m
March 2018: Agrees £300m rescue deal with lenders
October 2017: White says cost of energy-from-waste now stands at £195m. Firm begins Fit for Growth cost-cutting initiative
September 2017: Just over two weeks into the role, new chief executive Debbie White says cost of quitting energy-from-waste sector will be more than £160m
February 2017: Ringrose says cost of quitting energy-from-waste is now £160m
15 November 2016: Firm says it has had its contract at Glasgow terminated
14 November 2016: Interserve says chief executive Adrian Ringrose is stepping down after 13 years in the post
August 2016: Firm says it is pulling the plug on energy-from-waste sector, having announced £70m writedown on EfW contracts in May
August 2014: Interserve wins £145m deal to build waste treatment plant in Derby for the city council and Derbyshire county council
July 2012: Interserve wins £146m DBFO contract with Viridor to build recycling and renewable energy centre in Glasgow