Firm to start tearing down 1930s estate opposite Chelsea Barracks scheme
John F Hunt has been chosen to carry out demolition works at the Ebury Bridge housing estate ahead of work to build new housing at the site.
The £350m development will go up in the shadow of the upmarket residential job being built by Mace and Multiplex for Qatari Diar at Chelsea Barracks.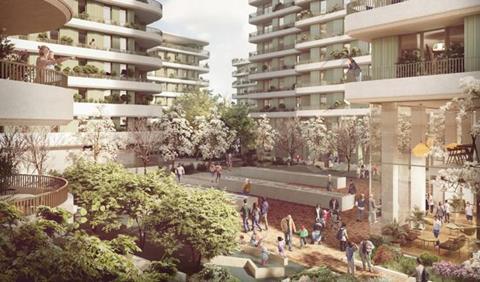 The demolition contract is worth £13m and has been awarded by Westminster City Council.
The estate is occupied by tenants meaning the works have been divided into phases, with Hunt set to carry out phase one demolition.
The council has the option to instruct the Essex-based contractor to carry out one or more of the remaining phases.
Each of the phases includes a number of options including retaining brick units, removal of ground floor slabs, pile probing and allied requirements.
Phase one is expected to be worth £3.8m, while phase 1A is worth £1.9m. Phase two is expected to be worth £7.5m.
In May Bouygues was appointed main contractor to the first phase of project.
Work involves redeveloping the Ebury Bridge Estate on the Ebury Bridge Road under a masterplan drawn up by Arup and A Studio. The estate is one of the borough's oldest with the majority of the buildings having been built in the 1930s.
Westminster council, which also appointed Bouygues, said work on the first phase, which includes an expected 758 homes, is due to start next year. The value of the first phase is around £100m.
The overall scheme was granted planning by then London mayor Boris Johnson in 2015.