Judicial review of Pickles' decision to scrap regional strategies held up to allow late submissions
The High Court judge who is carrying out a judicial review of the communities secretary's decision to scrap regional spatial strategies has delayed its decision for at least a fortnight.
Mr Justice Sales told Cala Homes, the Edinburgh housebuilder that brought the action, that it would be at least two weeks before he made a judgment.
This follows the submission of more evidence by lawyers acting for the communities department. Cala's lawyers may also submit more information in response.
Cala Homes contends that the decision by Eric Pickles in June to scrap the regional planning tier, which set housing targets for local authorities, required primary legislation and therefore was beyond his powers.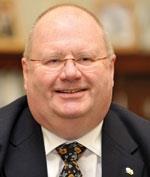 Plans by Cala for 2,000 homes at Barton Farm, near Winchester, were turned down by the local council the same month. The housebuilder argues that it is unable to appeal against the decision because of a vacuum in government policy.
Cala is being advised by planning QC Peter Village, who is a regular advocate for Taylor Wimpey, Persimmon and Barratt.
Two other housebuilders, Colonnade Land and Catesby Group, subsequently challenged the government's decision to scrap housing targets.
Neither has yet received a court date, and the decision over whether to press on with their cases is likely to hinge on the fate of Cala's challenge.
Colonnade Land's complaint involves a planning appeal it lost over its 326-home Coombes Farm development in Rochford, Essex.
Research by Tetlow King Planning suggests about half of all councils intend to review housing plans in their areas after the revocation of RSSs. Proposals for about 160,000 homes have already been ditched.
Nicola Raistrick, a planning law expert with solicitor Winckworth Sherwood, said: "Irrespective of whether Cala Homes wins or loses the decision to scrap RSSs will stay. If the government loses it will be an embarrassment, but it will most likely be rectified. Cala Homes may win a short reprieve but RSSs will no longer play a role in local planning."