Finance head takes over as interim chief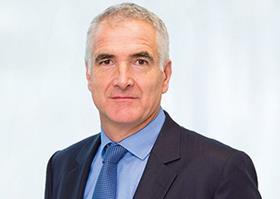 Keller chief executive Alain Michaelis is stepping down at the end of the month as the firm warned of problems in its key North America market.
In a trading update this morning [Friday], the £2bn turnover groundworks specialist said the second half of the year in North America had "started more slowly than previously expected".
Up to 60% of its business is in North America where it has 60 offices and 4,000 staff.
It added that revenue in 2019 would stay flat while its full year result was "more dependent than usual on the timing of expected large contract awards and the crystallisation of a number of customer claims".
Michaelis (pictured) joined Keller from Rolls Royce replacing Justin Atkinson who left in May 2015 after 11 years in the post. Atkinson has since gone on to hold a number of non-executive directorships including roles at Kier and brickmaker Forterra.
Keller said Michaelis will "remain available to the company until the end of 2019 to ensure an orderly handover".
Chief financial officer Mike Speakman will become interim chief executive on 1 October.
In July, the firm said turnover in the six months to June was flat at £1.1bn with pre-tax profit slumping 40% to £21.7m.